By E.M. Forster adapted by Roger Parsley and Andy Graham. Genesian Theatre Company, Sydney. Director: Mark G. Nagle. Feb 2 – Mar 9, 2019
Photos of the cast interwoven with lovely shots of Italy play on a screen in the foyer of the theatre. Reproductions of Renaissance paintings adorn the walls. Others, stylishly framed in gold, surround the proscenium arch and reach around to encompass the stained-glass windows which are a feature of 1868 building that is the Genesian.
It's so good to see a director and his creatives thinking beyond the stage and the script. Congratulations Mark! Your vision sets the scene as elegantly as E.M. Forster described it in 1908.
Often adaptations lose some of the impact of the original novel, but this is true to the plot and to Forster's gentle, but telling, critique of English society in the early 20th century. The contrasts in Forster's characters are clearly defined by Parsley and Graham and distinctly conveyed in Nagle's direction.
Nagle and Mark Bell have cleverly incorporated the imposing brick wall and stained-glass windows behind the stage as the backdrop of the set. Four pillars are used to symbolise the Renaissance architecture. Trailing ivy evokes both the Italian summer in the first act, and an English garden in the second. The use of minimalist props – a bench, a stool, a leather chair, two 'carriages', a hinged leaf-covered lattice – moved on and off the stage as part of action, adequately change the various scenes.
Susan Carveth's costumes add to the style and colour of the period – but require, as in all period pieces, careful checking by cast and crew of hems, buttons and creases. Sound designer (Martin Gallagher) and composer (Georgia Condon) recall the music of the time. Lighting, designed by Martin Schell, sets the various moods well, but does not adequately light faces in some areas of the stage, nor take into account the shadows cast by the hats that were de rigueur for the period.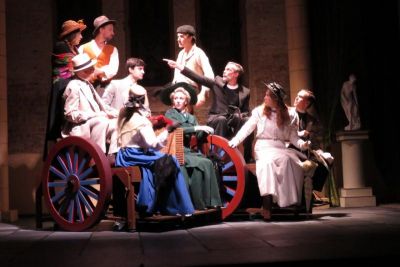 Nagle directs with attention to both the style of the time, and the pace required of contemporary theatre. Action is carefully and discreetly blocked. Actors hold themselves sedately and move gracefully – except of course for the youngest character, whose disregard of 'genteel' behaviour brings light humour to the plot.
Phoebe Atkinson plays Lucy Honeychurch, a young English girl travelling to Italy for the first time in the company of her aunt. Lucy is eager to lead a more independent life and her experiences in Italy challenge many of the values and ideas with which she has been raised.
Atkinson portrays all of these changes in Lucy over the course of the play, finding her original naivety, her curiosity and her burgeoning awareness and self-assurance.
Her aunt and chaperone, Charlotte, whose early restrained poise and rectitude is gradually eroded by the influence of others, is played by Anna Desjardins. Desjardins finds all of this in a controlled performance that portrays the challenges faced by the character, and her changing warmth.
One of the most delightful characters is Mr Beebe, a "wise and likeable clergyman with a youthful and playful spirit". Tristan Black (and Nagle's direction) suggest many aspects of Beebe's character: his lack of social snobbery, his understanding of love despite his presumed celibacy, and his championing of youth. Black finds depth and dimension in the character and lifts many of the scenes with his expressiveness and comic timing.
Ravel Balkus also amuses as Freddy Honeychurch, Lucy's nineteen-year-old brother. Balkus depicts the irreverence of youth in a relaxed, languorous performance that is an astute contrast to the pretentious behaviour of Cecil Vyse, Lucy's fiancé, played by Valentin Lang. Lang finds the straight-laced arrogance of Vyse in stiff movements and pompous articulation.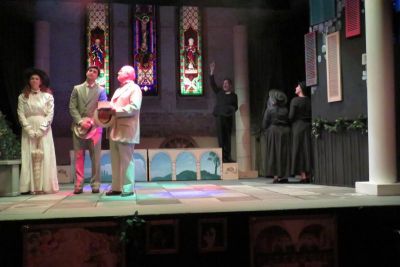 Christopher Dibb plays free-thinking socialist, Mr Emerson, as a lovably unconventional and wise philosopher, who believes in what is right rather than what is considered 'proper'. It is Mr. Emerson who finally convinces Lucy to follow her heart and marry for love.
His son George, brought up by his father to believe in what is right rather than what is proper, is played by Joshua Shediak, who makes the genuineness and open-minded passion of the character a stark contrast to the snobbish pomposity of Vyse.
Karyn Hall plays Miss Lavish, a patronising English novelist who considers herself rather racy; James Moir, plays Mr Eager, a supercilious, gossiping clergyman. Lynn Roise is Lucy's widowed mother; Cris Bocchi an Italian girl; and Lang, Balkus and Moir double as Italian locals.
Together – under Nagle's sage but imaginative direction – they bring to the stage E.M. Forster's tale of personal discovery and the possibilities of a change.
Carol Wimmer
Photographer: Grant Fraser