Writers: Rowan Atkinson, Richard Curtis and Ben Elton. Bordello Theatre, Kings Cross Hotel. 5 September, 2012 (then Wednesday nights until November 28).
Producing a tribute show to one of the greatest comics of our time is a mixed challenge. On one hand, you have the advantage of availing yourself of the genius writing of Richard Curtis, Ben Elton and Atkinson himself and also the audience goodwill therein. On the other, you have the daunting task of being compared to Atkinson's physical brilliance, pratfalls and comic timing.
Stephen Carnell & Blancmange Productions are to be congratulated for bringing this show to Sydney. Based on the 'Rowan Atkinson in Review' performances that were staged in London's West End and elsewhere between 1981 and 1991, it is a series of sketches in two acts, featuring Gabriel McCarthy in the Atkinson roles and Valentino Arico as his foil.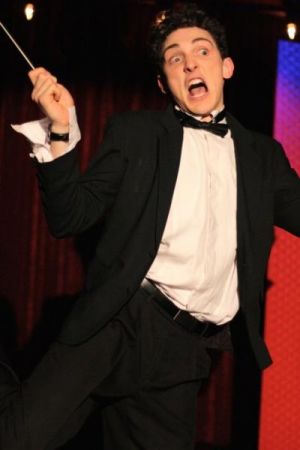 The production begins with McCarthy as Atkinson as the Devil himself, welcoming us to Hell. An hilarious beginning included some unfortunate breaking of the fourth wall, which can hopefully be put down to opening night nerves. Some of the scripts have been updated to include local and current references, a bold move that pays off some (if not all) of the time.
Interestingly, the performers deliver most of their dialogue in their natural accent, a logical choice for Sydney audiences, but one which is somewhat jarring if familiar with the original material. McCarthy hits his stride in the third sketch, a take on a series of Shakespearean performances, delivered by a high-strung and exuberant amateur actor. McCarthy was awarded Best Male Actor at this year's Sydney "Short + Sweet" festival -- tellingly in a solo performance piece.
Carnell as director has his cast playing to their strengths. The small and shallow stage in the Bordello Theatre (advertised as a theatre but more of a room) does not restrict them. Arico is excellent as the straight man, his enunciation and timing are spot on. McCarthy is more varied. His physicality is superb, as rubber-faced and sprightly as Atkinson himself. The dialogue-based scenes do however fall short. Most of the laughs received are a credit to the writing only.
The challenge of this performance might be akin to being lead singer in a covers band. You will never replicate the inspiration, so the task is to impress with a mixture of originality and imitation.
This is a tribute show and audiences will be rewarded with a lot of enjoyment. It is perhaps even funnier if you are unfamiliar with the original material. One woman in particular at the opening night seemed to be suffering from some sort of hyena-related laughing seizure. Recommended.
Greg Eccleston