Music: Arthur Sullivan. Libretto: W.S. Gilbert. Opera Q Production. Director: Lindy Hume. Conductor: Roland Peelman with the Queensland Symphony Orchestra. Choreographer & Assistant Director: Rosetta Cook. Playhouse, QPAC. 14-29 July 2017
Ruddigore or the Witch's Curse (1887) was Gilbert and Sullivan's tenth collaboration and coming after the gigantic success of The Mikado it fared badly with the critics and was relegated to the rarely performed in their repertoire.
Australia hasn't seen it for twenty years, so this new Opera Q production by Lindy Hume is a welcome revival. The piece trades in Victorian-era cloak-and-dagger melodrama with a delightful burlesque edge which Hume captured in some inventive Monty Python-esque sets by Richard Roberts.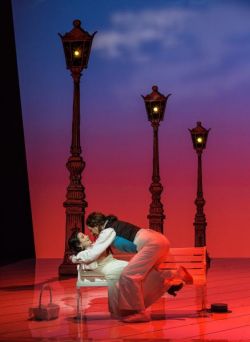 The convoluted story sees a baronet come up with an ingenious scheme to circumvent a family curse and marry the love of his life and in doing so we are introduced to some of Gilbert's most bizarre and witty characters - top of the list would have to be Mad Margaret. It's a dream role and in Christine Johnston's hands was the undoubted highlight of the show. It enabled her to display her full comic range, refined after years of playing as one of The Kransky Sisters, stealing almost every scene in which she appeared. She was a star.
But Johnston didn't have it all her own way, with Bryan Proberts taking feyness to a new level in the dual roles of the meek village swain Robin Oakapple and the cursed Sir Ruthven Murgatroyd. He was comic gold.
Natalie Christie Peluso played Rose, the obsessed with etiquette heroine, with a refreshing layer of spunk, Jason Barry-Smith's Sir Despard Murgatroyd was a delicious black-hatted villain, whilst Andrew Collis' picture-come-to-life Sir Roderic, looked dashing in a kilt and owned the stage vocally in "When the night wind howls".
Kanen Breen's lascivious sailor Richard Dauntless suffered by an impenetrable accent which mostly killed Gilbert's lyrical wit. In fact this was a problem for most of the production – the lyrical word-play frequently could not be understood.
Ruddigore also contains one of Gilbert and Sullivan's most famous comic-patter songs "My eyes are fully open to my awful situation" which, last night delivered by Proberts, Johnstone and Barry-Smith, brought instant recognition, hearty applause and the requisite encore.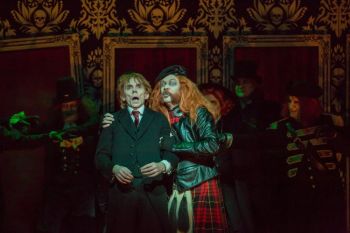 The Opera Chorus were a merry bunch of 'professional bridesmaids" and cricket-bat carrying suitors and also raised a giggle in their Arcadia-type dance routines by Rosetta Cook.
Top marks to conductor Roland Peelman who did a valiant job of keeping the orchestra and singers, especially during the patter-songs, on the same beat. Hume took a contemporary look at a work that was decidedly dusty and gave it a fresh and pleasing spin. She deserves a bravo!
Peter Pinne
Images (from top): Christine Johnston and Natalie Christie Peluso; Bryan Proberts and Andrew Collis, & Kanen Breen and Natalie Christie Peluso.