Adapted from R.U.R. by Karel Capek; written by Rohan Byrne. Produced by PlayReactive, and hosted live in the lab at BioFab3D at St Vincent's Hospital Melbourne as part of National Science Week 2018. August 9 – 19 2018, with post-show forums on Thursday 9 & 16.
It is National Science Week and to celebrate, a collaborative fusion of arts and science BioFab3D and Play Reactive, have created and developed RUR 2020. It is an innovative and fascinating dystopian tale written by Rohan Byrne, adapted from Karel Capek's science fiction play RUR (1920).
RUR 2020 is set over a ten-year period at the Talos Laboratory, where human organ transplants have become ubiquitous and synonymous with a factory assembly line. It is a multi-billon dollar corporation and the government is forced to regulate and develop a National transplant scheme. Deception and faulty organs are exposed in a news break through, instigating mass demonstrations and a company melt down.
The distinctive staging of this marvelous production is in the BioFab3D Science laboratory, developed to print tissues from human cells to treat diseases. As an audience member observing the drama in a site-specific location it encapsulates a new visual dimensional depth, whilst offering a close visceral experience.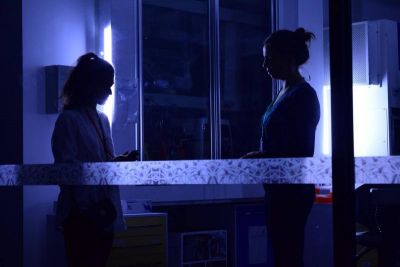 Georgia Symons (director) has successfully managed a pliable team of actors who weave in and out of the laboratory space with fluidity and ease. They give generous performances conveying clinical and calculated mannerisms. Domin (Josiah Lulham) is cold and deceptive, manipulating Helena (Yvette de Ravin), the vulnerable genius, to sign over her medical breakthrough. Gall (John Marc Desengano), the likeable 'yes man' provides comical respite; Emily (Sarah Fitzgerald) is the probing reporter; Fabry/ Nana (Louise O'Dwyer) is superb as not only the work colleague but an ageing office cleaner. Radko (Ben Sheen) is a haunting organ recipient.
RUR 2020 is an intriguing probing production. I highly recommend the experience.
Flora Georgiou
Photographer: Kristy McGuire