A classic French Farce double bill by Eugène Labiche & Georges Feydeau. Translation & Direction by Morgan Dowsett, adapted by Matthew Ryan. Queensland Theatre Company. Cremorne Theatre. February 7 – March 12, 2011
After a seriously disrupted rehearsal and preparation period, this production is timely light relief from the flood ravages.
Farce requires its audience to suspend disbelief of outlandish situations.
Each of these plays provides the improbable at the outset, then lollops through a cripplingly funny hour of unforeseeable situations that kept our mirth bubbling.
Renee Mulder's bold cream set with six doorways works well for the frenetic action. Five lead each to a different brightly coloured space or place, the sixth to a spacious bed behind heavy drapes.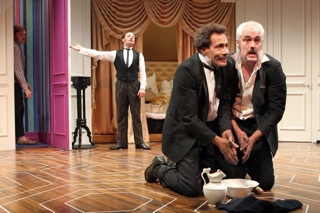 Eugène Gilfedder, Hayden Spencer (recently returned from a stint with Cirque du Soleil's Dralion), nimble Dan Cristani and Jonathan Brand each plays two roles with exemplary farce timing, energy and style. Masterful performances!
Diminutive Neridah Waters is left with the token female part in each play, one a fey wife, the other a nyphomanic actress-and-wife, foil to the male comics in each play.
I left the show laughed-out but disappointed. The script did not match the expertise of the cast: In a nutshell, Ryan's ingenious marrying of the two adaptations was spoilt by occasional lapses into 'telling' rather than 'showing'. This patronises the audience. Then there were too many moments where Dowsett seemed to over-direct to the point of silliness. Maybe he simply forgot that, towards dress rehearsal the director must become the audience and watch for the point beyond which creative comedy misses the apex.
To be honest, however, most people left the theatre lighter of spirit than when they arrived.
Jay McKee
Images
Top: L- R Hayden Spencer, Jonathan Brand and Neridah Waters
Lower: Jonathan Brand, Dan Crestani, Eugene Gilfedder and Hayden Spencer