Opera by Richard Strauss. Libretto by Strauss, from the play by Oscar Wilde. Director: Gale Edwards. Opera Conference / Opera Australia co-production. Opera Theatre, Sydney Opera House. October 12 – November 3, 2012.
This is a classy new production of Strauss's 1905 one-act opera that thrilled Europe with its modernist depiction of rampant lust, steamy dancing (with seven veils) and the unrestrained pashing of a decapitated head. In the confronting final scene of Gale Edwards' powerful staging, Cheryl Barker as Salome rips out John the Baptist's tongue before rolling around the floor with his head until her black gown glistens with blood. Meanwhile conductor Johnnes Fritzsch is urging a huge 69-piece orchestra — including six percussionists — through Strauss's jangly, neurotic score.
This mighty concluding sequence is a triumph for soprano Barker who demonstrates her internationally acclaimed vocal and dramatic range. The fact that she has previously seemed unsuited to the role is everything to do with classical opera's insistence on getting the singing right above all else. In an excellent program Edwards describes Richard Strauss's lead character, borrowed straight from Oscar Wilde, as 'teenage', an 'adolescent' 'reaching pubescence'. Strauss himself is quoted as saying that his Salome needs to be 'a sixteen-year-old Princess with the voice of (Wagner's) Isolde'. Cheryl Barker would no doubt be a brilliant Isolde.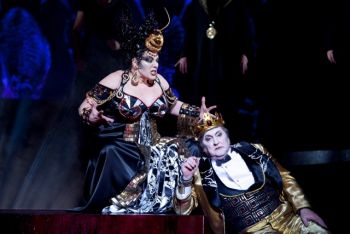 When the spoiled and petulant princess demands to meet the wandering prophet (John Wegner) who has been locked in her stepfather King Herod's dungeon/cistern, she finds he is utterly resistant to her burgeoning sexuality. Furious, frustrated, increasingly nutty, she bargains with Herod (John Pickering) to have the doomed man's head given her on a platter. Pickering and Jacqueline Dark, as his famously corrupt wife Herodias, bring some nice comedy to the progressively grim proceedings.
Costumes by Julie Lynch are spectacular on designer Brian Thompson's red-mottled structure, which is often backed by rows of animal carcasses. John Rayment's restless lighting is a constant pleasure.
The crucial Dance of the Seven Veils sequence is a highlight from which, however, this Salome has been largely excused. Instead, as choreographed by Kelly Abbey, seven soon-unveiled dancers in turn vividly display aspects of female allure/submission, including some pole dancing and a startling guest appearance by Marilyn Monroe.
Frank Hatherley
Images: (top) Cheryl Barker as Salome and John Wegner as Jokannan; (middle) Jacqueline Dark as Herodias and John Pickering as Herod and (below) Cheryl Barker as Salome reclining with the head of Jokannan. Photogeapher: Lisa Tomasetti.