By Elise Hearst. Arthur and Griffin Independent (NSW). SBW Stables Theatre. September 5 – 29, 2012.
What if you found yourself washed ashore in a foreign country, rescued by a stranger, with no recollection of your past and an unsettling feeling about your future? That is the premise of the latest offering from Griffin Independent and Arthur.
Although Elise Hearst's script sounds like a play about the politics of asylum seekers, it really isn't as such. It's more about the inspiration of renewal and the possibility of reinvention. It's bold and interesting writing that often leaves the audience on the edge of their seats wondering what will happen next.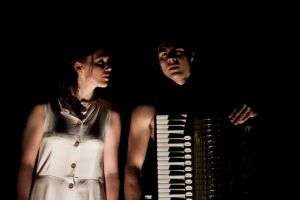 This is the second time that director Paige Rattray and Hearst have collaborated and it's obvious that they just simply 'get' each other creatively. Rattray's choices bring out the best in the script and the cast - all of which are impressive. But it is Meredith Penman as Eva who captivates the audience. The depiction of a woman struggling with remembering her past, but at the same time fighting against it, is particularly intriguing.
Special mention must go to composer and sound artist, Tom Hogan who played the sound track live which was so integral to the production he could be considered a fourth cast member.
Yet again Griffin has programmed a strong, intelligent and entertaining piece of new Australian theatre.
Whitney Fitzsimmons.
Images: Meredith Penman and Justin Cotta & Meredith Penman and Travis Cardona. Photographer: John Feely.