Written and directed by Jeffrey Jay Fowler. PICA - Perth Institute of Contemporary Arts, Perth Cultural Centre, WA. 18-22 February 2014.
The Fringe World Guide gives little symbols to each show to help people make selections. Second Hands is recommended as being suitable for taking Nan and Pop, great as a mate night and being "sure to impress and entertain your date". While Second Hands is certainly impressive, I would strongly advise against using this show as an aphrodisiac unless your lover is slightly unhinged.
More than a little disturbing, Second Hands is set in a world where obtaining a new set of hands is de rigeur for anybody who is anybody and using the hands you are born with marks one out as a hippy with extremely poor taste. Gradually we learn that these hands are harvested from the third world, and that is "ok" but only if one makes ethical choices about the source and "donor".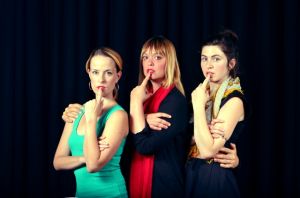 Austin Castiglioni and Renee Newman-Storen (Anna) are very strong as a long-married couple, where Anna's desire for ideal and fashionable hands threatens to tear apart their marriage. Georgia King is superb as Patrice who works in the hand business and is conflicted in many aspects of her life, while Nick Maclaine is good as her philandering lover. Holly Garvey is lovely (yet unsettling) as a young girl with her original hands.
The initial idea for Second Hands came from a devising exercise run by writer and director Jeffrey Jay Fowler in acting classes run by Little y Theatre Company last year. This has been refined and expanded into this quite perturbing, but very clever 75 minute play. Very simply but effectively designed by Sara Churchill it is staged very sparingly and its strength comes from its unique characterisations and the cleverness of the writing and concept.
A clever allegory for much in our consumer society, Second Hands is an intriguing and interesting piece of theatre.
Kimberley Shaw
Images: L to R Austin Castiglione, Renee Newman-Storen and Georgia King & L to R Georgia King, Renee Newman-Storen and Holly Garvey. Photographer: Steven Gerard.