By Stan Lai & Performance Workshop. OzAsia Festival (SA). Dunstan Playhouse. Saturday 10 November, 2018
Secret Love in Peach Blossom Land is regarded as one of the 'top 10 plays' from China in the 20th Century. First produced in 1986 as a collaborative work between legendry Chinese director, Stan Lai, and 'creative partners' Li li-chun, Chin Shih-chieh and Ding Nai-chu, it has remained in numerous productions ever since, throughout China and Taiwan.
In 2006 the play was revised so that now there are two versions – the 'classical' original and the 'revised' version. It is the 'revised' version, performed by some of Taiwan's major actors, that is part of this year's OzAsia Festival, and is the first time Secret Love in Peach Blossom Land has been produced in Australia.
It is not difficult to see why this play has been and continues to be extremely popular. It is an epic romance, a journey in which there two paths, one comic the other tragic, that reveal life to be in a constant state of 'suspension', and that in the end, no matter what, there can only be 'acceptance'.
The story centres on two separate Chinese theatre troupes that find themselves double-booked in the same theatre. Each has very different shows – one a modern romantic tragedy, and the other a classical comedy. Whilst remaining in theatrical temperamental conflict, nonetheless, each concedes to the other valuable rehearsal time so that the respective stories can be told. Both stories involve a love that is lost, and then if not necessarily regained, an acceptance of what cannot be changed – but in very different ways.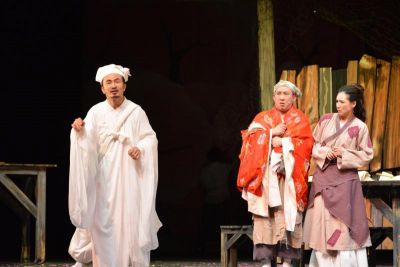 Whilst the theatre itself provides a unity to the play there is also the relative constant refrain in both tales that we are always living in a state of 'suspension'. We never really know what lies ahead, yet we must learn to accept whatever may come. A sense of 'tranquility' and 'acceptance' is the ultimate ending for both the comedy and tragedy. It is poignant, bittersweet, and very human, and subsequently transcends issues of race and language, as this is a play and production that goes straight to the human heart.
Both stories are engaging and compelling, as are the lively and combative interactions between the two theatre troupes. The comic play is hilarious but also the most 'classical' in terms of its mythic Chinese allegorical world. The romantic tragedy is based in contemporary naturalism. Whilst the comic play is truly delightful, nonetheless, partly due to its naturalism, it is the romantic tragedy that has the biggest emotional punch.
The play begins and ends with scenes from the romantic tragedy, and it is a fair comment to make that there 'wasn't a dry eye in the house' in this final heartbreaking and extremely moving scene – there was audible crying and sobbing throughout the packed house. I have not experienced anything like this for some time; that a scene about 'love lost' reduces a whole audience to tears.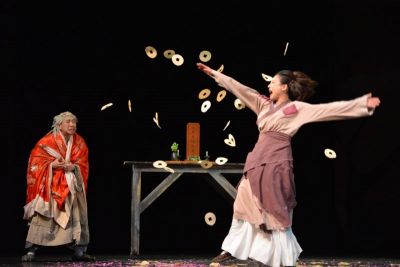 The play and production can be, and has been read on many levels; for some it is a historical clash between the old and the new. There are certainly social and political layers involved, but this is not an 'issue' play – it is a 'romance' – about the theatre and about acceptance of difference, fate and fortune.
This is truly a wonderful ensemble from Taiwan with each actor making a significant and memorable contribution to the production. Standouts include Fan Kuang-yao and Chu-Jr-ying as the romantic lovers in the tragedy, as well as Fan Jul-chun as the wife of the man, and Chu Chung-heng as the hilarious and athletic Master Yuan in the comedy.
The evening's enjoyment was compounded by the response of the majority Asian audience who applauded the actors at the curtain call vigorously and vocally, many of which they already knew. There was also a roar of praise and approval when Stan Lai made a surprise entrance joining the actors on stage.
This year's OzAsia Festival has presented a number of productions that have emphasised conquering the things that can divide us, such as language and race. Secret Love in Peach Blossom Land magnificently contributes to this overall theme, particularly in the moving final scene.
A wonderful and beautiful night at the theatre.
Tony Knight