By Kate Hamill. Directed by Vanessa Jensen. Melville Theatre, Palmyra, WA. May 3 - 18, 2019
Melville Theatre presents this pastel hued adaptation of Jane Austen's Sense and Sensibility, which is also quietly acting as a fundraiser for the National Breast Cancer Foundation. Director Vanessa Jenson has a clear passion for Jane Austen, and this shows in the presentation.
Much of the success of this production is due to excellent casting and portrayal of Dashwood sisters Elinor and Marianne. Olivia Darby is lovely as sensible and sober Elinor, in an elegant, layered performance. Michelle Ezzy is a sweet contrast, as the lighter and flightier, but equally likeable Marianne.
Michelle Sharp, as Mrs Dashwood, provides good solid support as the girls' mother, gently optimistic in "reduced circumstances".
The remaining cast all work especially hard, playing at least one 'featured character', as well as smaller roles, "gossips' and ensemble. Dashing but not always honourable suitors are well portrayed by Jason Dohle (Edward and Robert Ferrars), Matthew Lister (Colonel Brandon) and Tym Sanders (Willoughby). Craig Menners grabs most of the laughs as Sir John Middleton and other comic roles.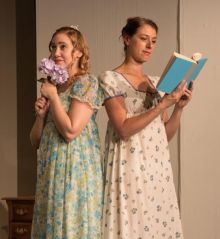 Susan Lynch is a stand out as Mrs Jennings, Ginny Moore Price is likably unlikeable as Fanny, Sarah Harris captures the frustration of poor Margaret Dashwood, Carmen Dohle is lovely as unlikely love rival Lucy Steele and Jayma Knudson brings humour to Anne Steele.
Vanessa Jensen's pretty toned set services the multiple locales quite well, and the use of surtitles helps to set scenes. Lighting and Sound Design was a family project for Lars, Vanessa and Jacob Jensen, with Stage Management (and cameo appearances as a horse) nicely handled by Darcy Jensen.
Costuming, by Michelle Sharp, Hannah Strobos, Barbara Lovell and Nicola Gredziuck, is very pretty, with some gorgeous millinery by Nicola Gredziuck.
A must-see for Austen fans, this is a visually pleasing old-fashioned piece of theatre. A nostalgic nod to a favourite novel.
Kimberley Shaw