Fringe World. Directed by Amanda Ash. The Library, Girls School, Wellington St, Perth. Feb 3-16, 2020
Sense and Spontaneity has proved very popular over the last few years at Fringe World. This year, in the very appropriate venue of The Library, at the Girls School, the Jane Austen improvising queens are shaking it up, by making this "a musical".
With cast members Esther Longhurst and Jess Messenger also having a considerable YouTube following with their music clips, Dear Mr Darcy and Headstrong Obstinate Girl, it is perhaps unsurprising that they have added the extra musical challenge, and they do it well, with accompanist Peter Lane Townsend adding some dynamic musical improvisation.
Taking a story from the audience as their impetus, Esther and Jess improvise a Jane Austen inspired musical. Your experience may vary, but it may well include a trip to Bath, some chaperones and a romance or two. It will definitely include lots of lovely bonnets, many of which are original creations.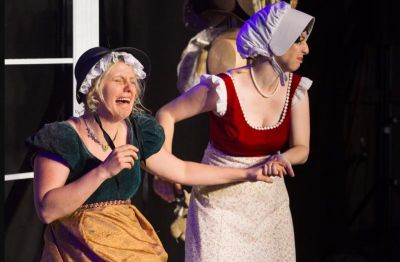 On the night I reviewed, the plot was particularly complicated and the names of the three heroines occasionally became confused, much to the joy of the audience. Highlights included a foxy lady dance, with the key characters' surnames being Lady, Fox, Hound and Lamb (which only added to the complexity).
Sense and Spontaneity the Musical is sometimes a little bit naughty, but is the sort of show that you can take your teenager or your grandmother to, and they will both be equally delighted. Great fun for best friends, literary lovers and improvisation fans.
Kimberley Shaw