Music by Stephen Flaherty. Lyrics by Lynn Ahrens. Book by Lynn Ahrens and Stephen Flaherty. Based on the works of Dr Seuss. Directed by Shirley Budinger and Paula-Mary Camilleri. Mousetrap Theatre, Redcliffe, Qld. November 16 – 25, 2018.
As the name of the musical implies, Seussical Jr is designed for young performers up to the age of 16 and is based on many Dr Seuss stories such as "Horton Hears a Who", "How the Grinch Stole Christmas" and "Horton Hatches the Egg". Thus Horton the Elephant, The Cat in the Hat and all the favourite Dr Seuss characters come to life onstage in this musical extravaganza with the young performers. Even for those who have not read all the books, the characters are intriguing to follow with the singing, costumes and movement.
Directors Shirley Budinger and Paula-Mary Camilleri have achieved wonders over-all with this Youth Theatre production. By keeping the set relatively free of props, they were able to manipulate the large cast with exuberant movement when required while keeping the storyline clear. The excellent costuming added greatly to the overall effectiveness of this production.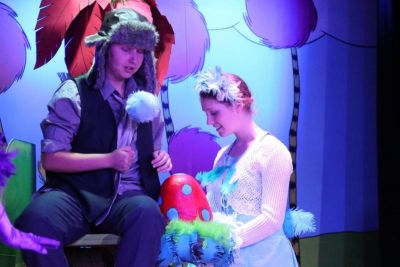 Of the cast of 34, many made up the Jungle Citizens, Bird Girls and Whos – the chorus groups so vital to this type of show. Corey Perkins as Cat in the Hat was very good in controlling much of the action. Of the other performers in individual speaking roles who had the chance to develop their characters, Grace Brunne, Meghan Budinger, Belle Townsend, Tammy Bensley and Adoja Sam stood out in both acting and singing. Unfortunately Don Koendijk as Horton needs increase his clarity but this will come with more performances and confidence. The other cast members were solid.
This musical production of Seussical Jr is a credit to not only the young cast and directors but to all the backstage people and costumers. Mousetrap Theatre has chosen a bold and daring way to develop the skills and talents of their youth theatre members. Not only was this a good production, it was very entertaining over-all.
William Davies