By Lynn Ahrens and Stephen Flaherty. Adelaide Youth Theatre. The Arts Theatre, Adelaide. January 23 – 26, 2020
Adelaide Youth Theatre have been presenting top class musical productions for and with young people since 2010. The founders and producers of AYT are voice teacher and drama coach Emma Riggs and dance teacher, choreographer, director Kerreane Sarti. Their goals are to work with and to inspire young performers aged 7 to 21 and to give them wonderful opportunities to shine on stage. There is no doubt that they achieve those goals with the latest production of Seussical, based on the words of Dr Seuss and the zany characters from his various stories.
I have heard great things about this company but have not had the privilege of attending a performance until this season. I was very, very impressed with the professionalism of the entire junior presentation. Expert level staging, lighting, costuming, choreography, musical direction, vocal excellence, acting standards and a marvellous live orchestra contributed to a very enjoyable hour of entertainment. I wish that I could have seen the senior ensemble also, as I am in awe of the level of work that went into this short season at The Arts Theatre and indeed, the results achieved.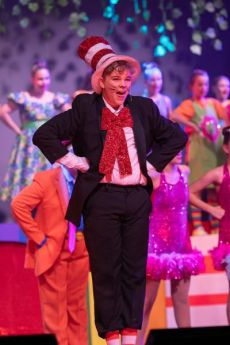 All the cast members were at their best, no matter how large or small their role. Everyone is obviously made to feel that their contribution is vitally important and it was a delight to experience the infectious enjoyment and focus on stage. Cat in The Hat in the cast I saw was wickedly portrayed by Harry Ince. Emily Riddle was a standout as Jo Jo, with great presence and a stunning voice.
James Farquhar took on the role of Horton the Elephant and made the gentle, caring and misunderstood character come to life with his confident vocal and acting abilities. Horton is the character who discovers the tiny folk of Who-ville on a 'speck of dust' and kindly decides that he should look after them despite nobody else believing in their existence. Kiara Linke was truly a highlight with her clear and mesmerizing singing and acting as Gertrude McFuzz. Gertrude's journey is a message of inspiration and the benefits of not giving up on others as she supports Horton throughout his journey. Alessia Charman was also on point as the manipulative Mayzie La Bird, who coaxes Horton to look after her egg so she can fly away on vacation.
A group of capable lads perform as the Wickershams who, with the assistance of Sour Kangaroo (a feisty Miley Vincent) and Baby Kangaroo (petite and talented Scarlett Cheesman-Burns), report Horton for the crimes of "talking to a speck, disturbing the peace, and loitering... on an egg". Of course, the ending is happy and triumphant but the journey is always entertaining. This is some of the best family entertainment to be had and it was obvious the audience was enormously appreciative.
Although this version of the musical for the junior cast is somewhat abbreviated, it is still captivating and holds together well for the audience, with the action well-paced during the entire hour. Astute set and projection changes take us seamlessly through a number of scenes and into The Jungle of Nool where much of the magic happens. It was also very apparent how well the young performers have been trained and nurtured, as the vocal excellence shone through, as did the fine acting and movement skills.
It makes my heart sing to know that there are a number of companies in Adelaide providing excellent opportunities for young people to take part in high quality theatrical experiences. These young performers are, after all, the future of our profession. My sincere thanks and admiration to Adelaide Youth Theatre for taking on this role and the dedication of the entire, exemplary team.
Lisa Lanzi