By Laura Eason. Wharf 1 Theatre, Sydney Theatre Company. Director: Jocelyn Moorhouse. 24 September – 24 November, 2012.
Generation gaps are getting narrower. This engrossing two-actor drama from Chicago playwright Laura Eason convincingly demonstrates there's now but a 10-year gap between us and the pre-digital, pre-smart-phones, pre-e-books folk of yesteryear. In a highly realistic production from movie director/producer Jocelyn Moorhouse — her first work for the stage — the highs and lows, pros and cons of this particular moment of the digital age are absorbingly demonstrated and discussed. Plus you get a sexy romantic comedy as well, acted in fine never-off-the-stage style by the experienced Jacqueline McKenzie and theatre newcomer Ryan Corr.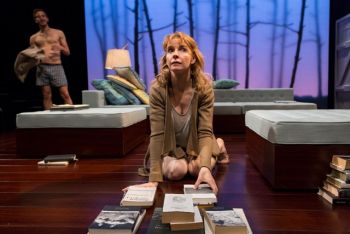 Talented 30-something Olivia (McKenzie) values her tortured privacy while striving to get her novels into hardback editions that can join her impressively stocked bookshelves. From the other side of the digital gap comes 20-something Ethan (Corr) whose very un-private online blog covering a 12-month quest to have sex with as many strangers as possible resulted in a book that's been 3 years in the New York Times Best Seller list. He's a fast-talking, persuasive charmer — virtually a stalker — and Olivia, lonely and vulnerable, is attracted to his sexual energy and, eventually, to his ideas about internet publishing and manipulation.
The play began life in 2010 with Chicago's great Steppenwolf Theatre Company and for this production — its second — writer Eason has already updated it, "moving it forward along with the changing world around it". There is certainly an exciting sense that Sex With Strangers belongs to Now, an urgent report from the front line of publishing, communications and relationships at this exact transitional time.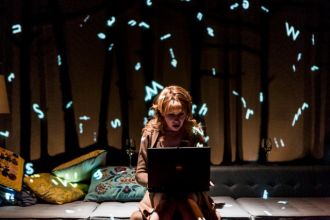 The production is both fluid and intense, very like a movie with its projected opening title and interspersed animated literary quotations (sometimes too quick to be comfortably read) accompanied by excellent music from composer Steve Francis. There are two attractive sets by Tracy Grant Lord.
For all its realism, however, for some reason American accents have been avoided, leaving us to wonder how these two attractive Aussies came to be writing in Chicago, New York and Los Angeles.
Frank Hatherley
Photographer: Brett Boardman