Adapted from the screenplay by Marc Norman and Tom Stoppard by Lee Hall. Melbourne Theatre Company. Arts Centre Melbourne, Playhouse. 15 July – 14 August 2019
The story of a young Shakespeare with writer's block; he falls in love and comes up with Romeo and Juliet. If you saw – and probably loved – the much awarded 1999 movie, the plot is about the same – and this sumptuous, no-expense-spared production moves about as fast. It's anything for a gag as the aim here is fun – with many jokes, especially theatrical in-jokes, plain old jokes and slapstick – satire and a touch of romance.
Gabriela Tylesova's set is pretty astonishing and perfectly fitting: there's a revolving tower – with stairs and a balcony – successive cycloramas giving us vast perspectives of the London of the time - and there's a sloping rostrum that is Shakespeare's digs, the tavern, the royal palace, Viola's bedchamber – with canopied bed – and of course the theatre. The costumes are of the same standard – velvets and leather, cocked hats, grubby jerkins and high boots. There are so many, and they are so fine that Ms Tylesova had two associates, Janet Hine and Dann Barber. Matt Scott throws a golden haze over the story with his lighting. Andrew Kroenert's music is just right cod-Elizabethan.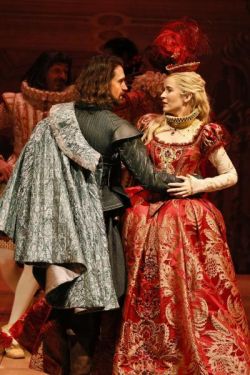 Lee Hall's adaptation of Marc Norman's story and Tom Stoppard's script (which bears some strong similarities to Caryl Brahms and S J Simon's 1941 novel No Bed for Bacon) transfers the story from screen to stage seemingly without major surgery. It strengthens the conceit that Kit Marlow (Luke Arnold) is best mate, literary inspiration and romantic adviser to Will Shakespeare (Michael Wahr). When Shakespeare struggles with his current play (already pre-sold and way over deadline) Romeo and Ethel the Pirate's Daughter (as if!) Marlowe practically gives him the entire set-up for the better-known play. Mr Hall also throws in some Cyrano de Bergerac for a riff on what will become the balcony scene when a tongue-tied Will courts Viola (Claire van der Boom). There's also a Jack Russell dog that is perhaps a too effective scene-stealer. And any number of Shakespeare's well-known lines are scattered among the secondary characters as throw-aways.
As with the movie, however, Will's struggles to write his play and his and Viola's love affair are rather overshadowed by these secondary characters. Much if not most of the fun resides with them. Here we see some delightful performances from actors whom I suspect have been given their heads by director Simon Phillips. Luke Arnold's Marlowe has effortless authority and confidence, reflecting Marlowe's superior status at the time and a friendly condescension to young Will. Daniel Frederiksen is a suitably insufferable Lord Wessex (with boastful codpiece) and Adam Murphy is the stiff and haughty money man, Fennyman, who melts when offered a tiny part in the show. Aaron Tsindos is a gloriously bombastic and conceited Burbage. Tyler Coppin's Wabash, paralysed by a stammer, has his moment in the play-within-the-play's Prologue. Peter Houghton maintains his ruffian persona even in a frock and wimple. Chris Ryan (last seen stranded with the non-character Newton in Lazarus) as Ned Alleyn is absolutely marvellous, a stand-out even in this cast: quick, decisive, bursting with energy, speaking his lines with crisp aggression. And our beloved Diedre Rubenstein – just right as an amalgam of every Nurse Shakespeare ever put in a play, but she is also sonorous, majestic and very, very dry as the Queen. Simon Phillips great skills at making images and creating pace are in evidence as he moves his cast briskly, even frenetically, around the huge machine of a set.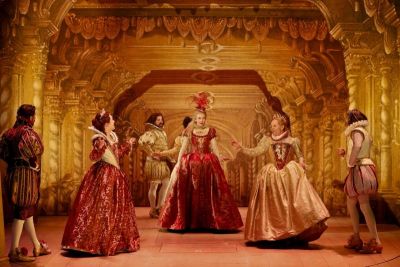 But perhaps if one knew less - or even nothing – about Shakespeare, his character here (and in the movie) would be more credible. Michael Wahr is good looking, dashing and energetic, even appealing as a young fellow on the make, but the portrait of Shakespeare as a naïve, bumbling, uninspired chancer would seem to be Marc Norman, Tom Stoppard and now Lee Hall pushing the joke just a little too far. (He is not such a booby in No Bed for Bacon.) Here Marlowe even dictates Sonnet 18 in its entirety. But then, sadly, when Mr Wahr is called upon to speak the real Shakespeare's lines, he rather lets us down. Perhaps, given the version of Shakespeare he plays, he felt he couldn't be too grand? Ms van der Boom fares a little better – especially when pretending to be a boy - but gets a little lost in the vast Playhouse cavern. In addition, the long blonde tresses can't help reminding some of us of the Mother of Dragons.
I began these remarks talking about design, lighting and music. Despite the sterling efforts of this wonderful cast, those elements just might be what we take away – those and the dog. More than one person has told me that, yes, everything is wonderful but curiously unengaging. In fact, I'd say a little calculated and even cold. Do we really care about this cartoon Shakespeare writing his play? Are we moved by Viola's love of the theatre and her risk-taking to be part of it? Are we thrilled at the brief love affair and saddened by its ending? Curiously, no. We are dazzled, we laugh a lot, but we are in the end outside. Shakespeare in Love must be the MTC's major production for the year and they have thrown great resources at it. The fun, the splendour, the spectacle and the association with the movie should ensure full houses, but there is something vital missing or withheld and the laughter and admiration soon evaporate.
Michael Brindley
Photographer: Jeff Busby