By Conor McPherson. Directed by Gabrielle-Rose Carter. Q44 Theatre. November 8 – 27, 2016
Conor McPherson is a deceptive playwright who brilliantly marries a witty and accessible primary level of storytelling with deep subtext that often takes us to places we would rather not go. Simple dialogue is openly accessible, but to reach the depth of McPherson's subtext and philosophy is like taking a giant leap down a well. It takes highly skilled actors and a fine director to go down that well and discover just how deep it is. Fortunately Q44 – a little company that continually mines the well in its quest for excellence – has those actors, and that director. The result is a wonderfully satisfying evening of theatre (topped off with a sumptuous supper from the incomparable Lilly Jones).
McPherson's play explores the concepts of alienation and truth, of finding where you belong and learning how to accept that. His plays, thematically, are always about the need to connect and the selfishness…driven by fear…that stands in the way.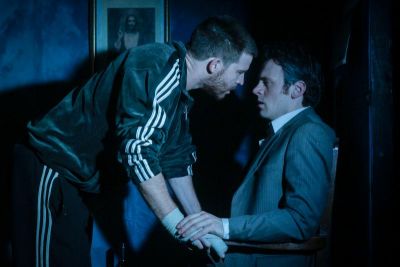 Ian is an ex priest. He has left the church and has a partner and a child. Now he finds he is still a confessor – as a psychologist - but without the benefit of faith to guide him, and he questions who he is and what will sustain him, now that God is no longer his scapegoat. John is one of his first clients; like Ian he is trying to come to terms with life as it is, and leave behind what was, but guilt – and a ghost – are getting in his way. Ghosts are a great metaphor for unfinished business – and both Ian and John are facing business in their lives they must deal with before they can move on and attain that Shining City of fulfilment.
Anthony Scundi (Ian) is superb as the ex-priest sublimating anger, frustration and confusion behind a calm exterior. I've watched his acting grow over the past five years from the obvious tricks of a novice to the subtle truth of a master. It has been exponential growth and it's hard to say just how close his personal Shining City is, but it's one hell of a performance. He is heartbreakingly convincing as Ian's life unravels.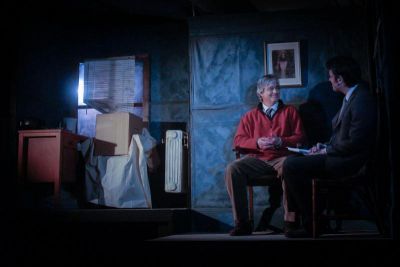 Sebastian Gunner (John) gives a wonderful performance with a perfect accent and multiple layers of emotion. John has long rhythmic monologues, peppered with pauses and "you knows". Gunner realises them brilliantly and brings John's truth, rather than his own, to the role. He and Scundi are amazing in their scenes together and director Gabrielle Rose Carter has made certain that there isn't a single moment of "Acting" on display. Wonderful work from all three.
Madeline Claire French is equally as good in the small but vital role of Neasa, Ian's partner. Her disbelief and pain at the realisation that Ian does not feel the same commitment that she does, is palpable. Nick Cain – as Ian's salvation/tormentor – is wonderfully human and downtrodden, just trying to survive.
These four terrific actors manage to overcome the restrictive nature of Casey Scott Corless' overworked set. John Collopy's evocative lighting contributes to the atmosphere of dark shadowy pasts and tightly bound lives.
This is fine theatre and you should make the effort to discover it for yourself. You won't be disappointed.
Coral Drouyn