Seymour Centre (NSW). March 30 & 31, 2012.
It was my first time as a judge for the ten minute play festival Short and Sweet. So much to judge and so little light to make any notes. Would the other judges agree with me? Everything was a first time look for me while others had seen a few in the preliminaries. How would it turn out?
I was pleased to discover that my votes for the best talent on offer ( lodged secretly) were very similar to the other judges. (Phew!)
The Sydney final was held at the Seymour Centre. The final twelve played off against each other after months of eliminations.
Production of the year was Something to Be Done. Ironically it had no dialogue at all. This one-person performance starred and was co-written by Gabriel McCarthy (pictured above).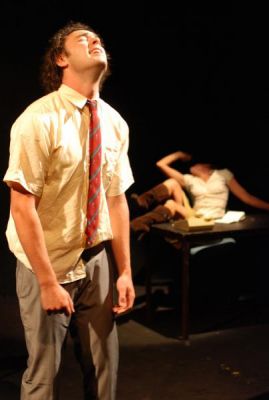 The act involved dance, mime and contortion. Described as one man searching for inspiration, it was phenomenal.
Best Director was Keane Williams for the play From a Great Height. This was an hilarious ditty about a man who asks a girl at his work out on a date, then talks himself out of it. The co-ordination between the hapless male and the girl miming behind him was spot on (image from production on right).
The overall Wildcards winner was a two-handed play Save Me. This was about a hoon, lying on a road broken after being thrown from a car crash. His 'rescuer' then torments him by weighing up whether to call an ambulance. (Production image below)
Best Script and Best Actress went to Joanne's real world. It was written, directed and acted out by Taylor Klas. It appeared to be set in a Centrelink Office.
One play I really enjoyed Bleeding out missed out on a gong. It was a thriller about a relationship on its last legs.
Other plays which stood out.
Driving the Holden was a beautifully written and acted two-hander about a young man, sentenced to a community service order, coming to a meeting of minds with an elderly man through their shared passion in cars.
So Where Is It? Written and Directed by Simon Denver. Set in a post 9/11 torture room. It was well acted with an hilarious punch line.
Overall it was a terrific night of entertainment.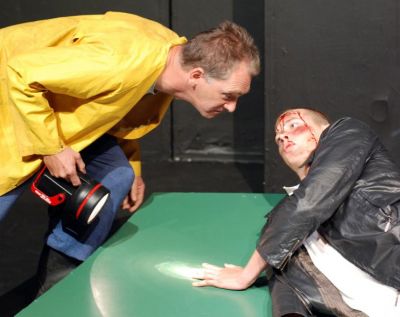 The Short and Sweet model has matured. You can see that writers are creating works which have a natural beginning, middle and a punch line to fill the ten minutes.
It's not the first scene of a play, but an organism in itself.
David Spicer
Awards
Overall Wildcards Winner: SAVE ME - Dir Grace Kelly, Neil Modra and Hendrick Elstein
Best Actor: Gabriel McCarthy (Something to be Done)
Best Actress: Taylor Klas (Joanne's Real World) Melb
Best New Talent: Lyndall Johnston (director of both The Black Velvet Glove and Knows His Onions)
Best Script: Joanne's Real World by Taylor Klas, Jamie Burgess and Cerise de Gelder (Joanne's Real World)
Best Director: Keane Williams for From a Great Height
People's Choice Award: The Whiskey Bar – Robert den Englesman et al
Best Production: Something To Be Done – Gabriel McCarthy actor, co-writer with Sepy Baghaei director, co-writer