Music by Jeanine Tesori, with book and lyrics by David Lindsay-Abaire. Based on the Dream Works animation motion picture and book by William Steig. PRIMA (Pine Rivers Musical Association Incorporated) production. Directed by Miranda Selwood. Redcliffe Cultural Centre. October 5-14, 2018.
Shrek doesn't mince words and neither will we: if you've got a fluffy butt, and even if you haven't, take it to the Redcliffe Cultural Centre this weekend and you won't regret it.
The school holidays might be over but this production of Shrek The Musical deserves the attention of everyone who has ever loved the Dream Works fairytale about an ogre who is forced to rescue a princess in a tower in order to reclaim his swamp.
It is brilliant. The vocal talent is of a calibre you would expect of a mainstage QPAC musical, there are no weak links. On stage, every actor is switched on and in character, whether they are animating a gingerbread cookie, moving a tree off stage, hoisting Lord Farquaad into the air, or manipulating a giant puppet dragon.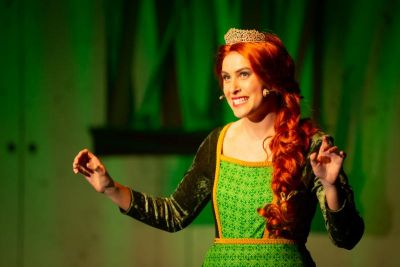 Nathaniel Currie, Lucy Bardsley, Zach Price and Tristan Vanyai appear to be mirror images of their film doubles of Shrek, Princess Fiona, Donkey and Lord Farquaad but you won't be fooled for long. They extend (or shorten) their characters beyond the screen, bringing a vibrant energy to the show that allows it to live in its own world, not as a shadow of the film.
Vanyai's knees would be taking a pounding in this show, but it was hard not to beg him to do one more encore, he is hilarious as the pint-sized would-be king, Lord Farquaad. And while we are talking about just one more, would it be presumptuous to ask Emily Hamacek to reprise her jazzy Dragon? Hers is a voice like melted chocolate and there isn't enough chocolate in the world.
This is a huge production of acting, singing, puppetry and dance, with almost 100 people involved. There's a cast of 26, a 15-strong orchestra, a creative team of seven, and a production and support crew of more than 50. And they are all on point and bringing magic to the stage.
Miranda Selwood has excelled herself with this show, and PRIMA as a supporter of emerging and established actors of all ages is to be commended for its contribution to community theatre in Queensland.
Debra Bela