Adapted by Stephen Briggs. ARENA Arts. Directed by Ron Arthurs. Roxy Lane Theatre, Maylands, WA. July 13-27, 2019
ARENA Arts have presented their ninth Terry Pratchett play, the WA premiere of The Truth, as adapted by Stephen Briggs. Featuring Discworld's first newspaper, The Ankh-Morpork Times, it shows how "A lie can run around the world before the truth has got its boots on."
Brendan Ellis as William de Worde, accidental newspaper editor, ably leads cast of 19 actors playing 39 named characters, in a nicely measured central performance.
An amazing eight actors make community theatre debuts in this production, with Annabelle Eirth impressive as clever leading lady Sacharissa Cripslock, Jamie Smith strong as standover man Mr Pin, Elisabet Pryor doing some wonderful eye acting as dwarf Boddony and Kundai Gotore showing fabulous facial expressions as Mr Wintler and in other roles. Promising first shows from Dan Lonick (Commander Sam Vimes), Alisha Versteegen (Sergeant Angua and Mrs Arcamum), Jonathan McMaster (in multiple roles) and Clare Talbot (who was fight choreographer and stage managed between playing four roles).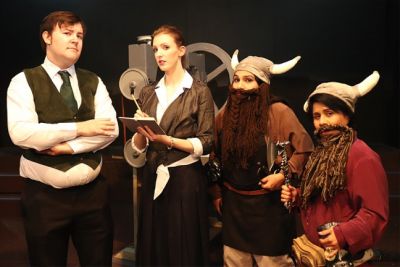 With so many characters, it is a credit to actors, director Ron Arthurs and costume designer Penelope Lloyd, that each were distinct. Particularly memorable were Matthias Pesch's nicely physicalised vampire Otto Shriek, Fleur Pereia's likeable dwarf Gunilla Goodmountain, Don Callison's wonderfully delivered zombie lawyer Mr Slant (and versatility in other roles), Chris Harris' duel portrayal of dopelgangers Lord Vetinari and Charlie, and CL Cowell's audience favourite performance as talking dog Gaspode. Evie Macpherson made the role of Mr Tulip her own, with Ian Banks, Nathan Di Giovanni, Marie Skewes and Keri Neale working hard throughout.
With 28 scenes and nearly fifty changes of locale, the set is wisely universal, with the only major feature being key prop, the printing press. Callon Leam's sound and lighting help the audience to navigate the various places.
As well as attracting a myriad of new performers, The Truth appears to have attracted many new audience members, with Discworld fans making up a good percentage of the house - which can only be good for theatre in Perth.
Kimberley Shaw