Melbourne Festival 2011. Site Unseen is supported by a partnership between The City of Port Phillip, The St Kilda Inclusion Project (SIP), the Port Phillip Community Croup, Many Moons Group and Sacred Heart Mission. Co Writers/Artistic Directors: Graham Pitts and Robyn Szechtman. Designer: Shaun Patten. Cast: Brendan Bacon and Chris Bunsworth as Wozza; Joseph O'Reilly and Elliot Cyngler as Nigel; Joanne Davis and Annie Stanford as Felicity; Andrew Gray and Sean Kavanagh as Maurice; Sharon Kirchner and Margie Howlett as Francesca. October 6 to 22, 2011.
The audience gathers, with a palpable expectation and trepidation, in the car park by the Palais, St Kilda for this site specific work that examines homelessness. Riddled with intimate knowledge, brutal experience, caring and passion, the part experiential part informative journey thence to Theatre Works has a great deal to recommend it.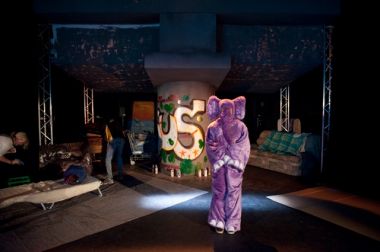 However some possibilities are negated by cliché, the not always comfortable use of humour and conceits as to who the audience is, in relation to the sometimes real, sometimes fictitious events and environments. Satisfactory engagement requires varying degrees of suspension of disbelief for the viewer and conscious deliberate reinforcement from hard working actors.
Memorable and affecting moments include two locals performing a musical number in front of the theatre and time spent in the 'waiting room' hearing the voices of individuals who have experienced homelessness.
As Community Theatre - Site UnSeen displays examples of the genre's best, worst and most problematic qualities. I suspect the sum of the process is much more than the performed result, though nowhere near as great as the ultimate outcome. With many, many stakeholders, including charities, funding bodies and motivated caring community members - engaging, supporting, informing and assisting there is bound to be significant goodwill and social capital generated.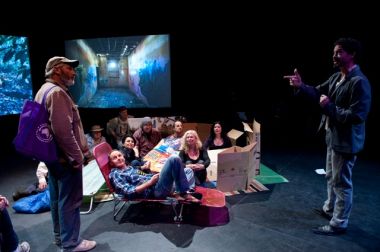 This is an example of an extremely valid and valuable process of engagement and story sharing to promote greater understanding and acknowledgement of the difficulties of homelessness. Ideally it will highlight and strengthen pathways for individuals to get off the street and out of harm's way.
More money, time and a ruthless Dramaturge would be required to further distil the often raw and sometimes irrelevant material into succinct provocative theatre.
Though a bitter pill covered with too much sugar, Site UnSeen is valid and valuable 'grass roots' Community Theatre that does have some transformative potential. Variables may inform, affect and render each of the many performances into unique, memorable, valuable and worthwhile events for all involved.
Suzanne Sandow
Photographer: Paul Dunn.
To keep up with the latest news and reviews at Stage Whispers, click here to like us on Facebook, or follow us on Twitter.