By Richard Alfieri. The Therry Dramatic Society. The Arts Theatre, Adelaide. 1-10 Nov, 2018.
The great Carl Gustav Jung once said, "The meeting of two personalities is like the contact of two chemical substances: if there is any reaction, both are transformed."
Six Dance Lessons in Six Weeks certainly echoes this quotation. It centres on a formidable retired woman, Lily Harrison, who hires a flamboyant dance instructor and ex chorus boy, Michael Minetti, to give her private dance lessons, one per week for six weeks.
What begins as a combative relationship develops into an intimate friendship as these two people with very different backgrounds reveal their secrets, fears, and joys while dancing the Swing, Tango, Waltz, Foxtrot, Cha-Cha, and Contemporary Dance.
Lily shares her ultimate secret with Michael by the final lesson and he shares with her his greatest strengths, his loyalty and compassion.
Watching the play unfold is like peeling an onion; the surface layer is tough, but as Lily and Michael's relationship evolves the layers become more tender, until the heart of the onion (and their hearts) is reached and their true emotions are exposed.
The transition of this unique relationship is skilfully handled by well-known director and actor Pam O'Grady. Every nuance is brought out and we are taken on an amazing journey, caustic, touching, funny, dramatic and ultimately heart rending. O'Grady is to be congratulated on her sensitive handling of the themes of ageism and intolerance which underlie the play.
Being a two hander, Six Dance Lessons in Six Weeks lives or dies on the casting and talent of the two actors involved. Both Bronwen James and Lindsay Prodea are excellent choices to bring these characters to life.
James is equally at home in musical and straight theatre and played the stage actress Desiree Armfeldt in A Little Night Music earlier this year. She gently leads us from the hesitancy of letting a stranger into her life, dealing with a difficult neighbour and co-creating a special bond. Her performance is full of nuance and comic timing and she nails every laugh line and every tear in a carefully considered portrayal.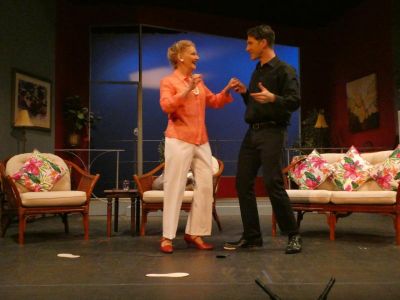 Prodea is also no stranger to musical and straight theatre. He played the title role in The Great Gatsby and Ted in Therry's production of Holiday Inn earlier this year. His Michael is brash, petulant but ultimately vulnerable. Prodea gives us high energy and as much as we are annoyed with Michael at the beginning of the play, we are in admiration of his devotion for Lily at the conclusion.
In this production, a third actor has been added as the home help. Maxine Grubel covered the scene and prop changes between scenes armed with a feather duster and lots of sass. She earned well-deserved applause for each scene change on the night I attended.
Interestingly, there is no mention of the choreographer for this production. This is unfortunate as choreography is well handled.
The setting for Six Dance Lessons in Six Weeks is in Lily Harrison's condominium in Florida. This is skilfully recreated in Don Oswald and Pam O'Grady's set. Walls of deep cherry red and grey, cane upholstered furniture and floor to ceiling windows leading to a balcony, together with Richard Parkhill's lighting, complement the narrative they showcase.
My only reservation with this production was the amount of blank time between the home help's tidying of the room and the characters' entrances. A little more business would cover this and ensure the transitions flow smoothly. This should pick up as the production continues.
Six Dance Lessons in Six Weeks is a highly entertaining evening that will have you thinking, laughing and perhaps shedding a tear or two. It may even make you take up dancing!
Barry Hill