Six short plays written and performed by Melbourne Writers' Theatre. Directed by Elizabeth Walley and Alec Gilbert. La Mama Courthouse, Carlton, VIC. 3 – 15 October 2017
A portmanteau (as such things used to be called) of six short plays – each a two-hander, featuring in each a secret plus a tramline or a tram ride or a tram journey ('I came by tram') or a tram stop. Like, say, Tropfest, the secret and the tram connection were the restrictions placed on the Melbourne Writers' Theatre members. The restrictions aside, the plays, it must be said, are of varying quality as is the acting of the casts – but it should also be said that the texts of some pieces would be challenging for any actor.
The first, Hope, by Heather Forbes McKeon, is an unfocused period piece, featuring a labourer (Isabella Gilbert) and a foreman (Alec Gilbert) laying the St Kilda to Brighton line tram track. Their dialogue jumps arbitrarily from one subject to another, culminating in a plea for women's rights. Both actors struggle a little with the archaic slang, which is laid on thickly, with the fact that as workers they seem to have little to do and with the final reveal, which has us thinking, 'You're a bit slow, mate.'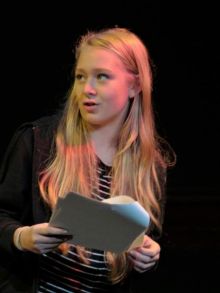 The second, Fair Price to Pay by Neil McGovern, has an extremely patient tram ticket inspector (Mazz Ryan) and a fast-talking feral millennial (Cosima Gilbert), caught without her 'myki' (travel card). The problem here is simply credibility, beginning with 'Your myki?' and the millennial replying, 'How did you know?' This thin gag is stretched beyond breaking point. Ms Ryan lacks that bullying, thuggish quality that Melbourne tram travellers know so well (and where's her back-up?), while Ms Gilbert talks so fast half her (repetitious) dialogue is lost.
There is some real poignancy to Bruce Shearer's Handbag –the third piece. Here, again on a tram, an apparently chatty, friendly older woman (Mazz Ryan again) admires the stylish handbag of an attractive younger woman (Isabella Gilbert). The younger woman is at first irritated and tries to insulate herself, but the older woman's sadness penetrates to a point where the younger woman becomes flustered by unfamiliar emotions (like sympathy) and almost desperate.
Rainbow's End by Alison Knight is the fourth piece, set in a retirement or convalescent home. An ex-drag queen (Eyawn Harry) meets a new arrival (Alec Gilbert), an elderly and unwell gay man who's never come out of the closet. The old drag queen – played with great confidence and aplomb by Mr Harry – cuts through the other fellow's evasions and he finds he has a home at last. Mr Gilbert, an experienced player, presents well a man who has been frightened and hidden all his life and who now melts with relief.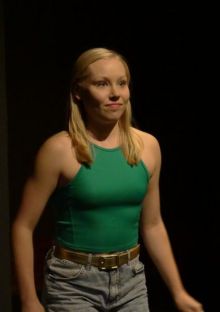 The peril of internet dating is the premise of It's Not Me, It's You by Katie Lee. Maybe it's a wee bit obvious, but it's funny and played with conviction by the fellow (Kyle Roberts), who is gradually revealed as a liar and dangerous to boot, and the sweet, naïve young woman (Isabella Gilbert), who finds the nerve to tell him off.
The final piece, The Woman and the Box by Martin Rice, is intriguing. There's a bit of the 'mysterious East' hocus-pocus here, but the audience is drawn in by the stage presence and composure of Ai Diem as an Asian woman sitting at a tram stop with a wrapped box in her lap and beleaguered by an aggressive racist young man (Finn Lloyd). Unfortunately, Mr Lloyd isn't much of a threat since as a performer he appears terribly nervous and, although he's been directed to circle Ms Diem, he doesn't come threateningly close. He demands the woman's box, however, and, calm and assured as the woman is, we can't see how he won't get it. Ms Diem carries things through to the genuinely surprising ending (with an echo of Belle de Jour and that briefcase in Pulp Fiction).
As noted, these plays are of uneven quality, but they improve as the evening goes on. As each must achieve what it sets out to achieve in around fifteen minutes, the task is more demanding than it looks. One is left wondering if more seasoned players might, in some cases, have made the texts work better, but there is no better experience for theatre makers than putting it out there and seeing what happens.
Michael Brindley
Images - Cosima Gilbert and Isabella Gilbert.