By Ottorino Respighi. Victorian Opera. Conductor: Phoebe Briggs. Director: Nancy Black. Arts Centre Melbourne, Playhouse. March 11 – 18, 2017
So Ottorino Respighi wrote an opera? Who knew! Obviously the powers that be at Victorian Opera did, and what a delight it was.
As the work was originally written for a marionettist, VO employed puppeteers to create the various characters with singers in street clothes singing beside them. Sometimes they would mirror each others' movements. With so many animals featured, this worked very well.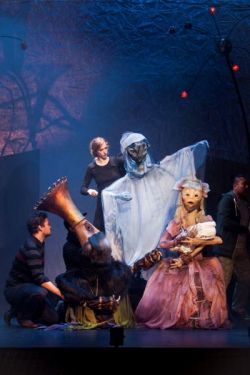 The puppets were amazing. Many were quite grotesque, and I particularly loved the old woman, whose face was considerably lower than her shoulders and occasionally did a face plant on the table. The frogs and the cat were also highlights. There were stretches of music without singing, and the puppeteers danced, so that the audience were constantly enthralled.
The singing from the mainly young cast was also impressive. Zoe Drummond and Shakira Tsindos were delightful as the nightingale and the cuckoo. Young bass Timothy Newton made an impression as the Ambassador, while Elizabeth Barrow sparkled as the Blue Fairy.
Raphael Wong was a strong King, international contralto Liane Keegan a delightful Old Lady and Duchess, and resident hero, tenor Carlos Barcenas, sang beautifully as the Prince. The lighting was brilliant.
Orchestra Victoria under Phoebe Briggs was in fine form, supporting but never overwhelming the singers.
The main accolades should go to the production team who thought up the concept and executed it so well.
It was an amazing night at the opera.
Graham Ford
Photographer: Charlie Kinross.