By Bess Wohl. Darlinghurst Theatre Company. Director: Jo Turner. Eternity Playhouse, Sydney. 3 - 26 May, 2019
The small mouth sounds referred to in Small Mouth Sounds by American Bess Wohl are conversations, everyday chatter. All speech has been banned from the group of six starting a weeklong silent retreat at a hippie institute somewhere in country Australia. So how will that go? No chatter and only the occasional grunt or snatched comment among the cast for the majority of the play will lead to nothing much? Not at all: the audience must work hard to get the full story on everyone.
At the start of the week there's Rodney (Dorje Swallow), well-toned in full Zen serenity; woolly-hatted Ned (Yalin Ozucelik), the only one whose pen absolutely refuses to work; Jan (Justin Smith) who attracts biting insects to every part of his body; Joan (Sharon Millerchip) and Judy (Jane Phegan), a lesbian couple going through a rough patch in their relationship. Crashing in late with multiple bags and packets of chips is frazzled Alicia (Amber McMahon), ditsy and snuffling, madly tapping out messages on her mobile phone.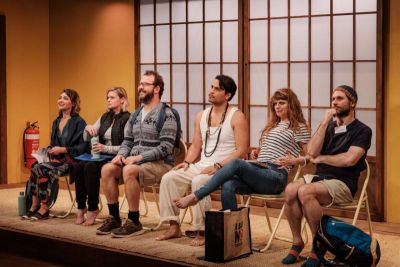 The disembodied voice of the Guru (director Jo Turner) lays down the ground rules ¬– no talking, no phones, total silence – ¬and the week begins. The cast expertly demonstrate that speech can be dispensed with: the packed, enthusiastic first-night audience filled in all the gaps required. Only one character gets the chance to speak and Dorje Swallow lets rip with why he must always wear that hat, an appalling reason which leads to why his ex-wife slept with his younger brother, and considerably more.
Soon crazy Alicia makes out with dashing (and fully naked) Ned in the woods out back, and the Guru is caught having his own problems with a partner via his phone – a reminder that the outside world is forever beeping and calling loudly for our attention.
The American play has been well Australianised, with the week-long retreat fitting exactly with our current thinking. Direction is splendid, with the cast doing wonders on the narrow Eternity stage (Production Designer, Jeremy Allen).
Frank Hatherley
Photographer: Robert Catto