Music by Richard Rodgers. Lyrics by Oscar Hammerstein II. Book by Howard Lindsay and Russel Crouse. Babirra Music Theatre (Vic). Director: Tyler Hess. Musical Director: Ben Moody. Choreographer: Kristy Griffin. May 31 – Jun 15, 2019
The Sound of Music is a failsafe show with lots of well-known songs and kids as well, and this Babirra production has much to recommend it.
Soprano Greta Wilkinson was a delightful, feisty Maria. Unfortunately they were using the original score written for contralto Mary Martin – both Julie Andrews and June Bronhill sang in higher keys – which did not show her lovely voice to best advantage.
The Captain is often played by actors who can sing a bit, so it was a pleasure to have tenor Adam Bianco in the role. The two worked very well together. Operatic soprano Samantha Du Rennes was a dignified Mother Abbess, who shone the iconic "Climb Every Mountain".
Phil Lambert was Max Detweiller, the "fair-weather" friend. He was a stand-out with his wonderful comic timing and pleasant singing voice. He had a wonderful duet with Lauren Holcombe as the fiancée, Elsa Schaeder, another excellent voice.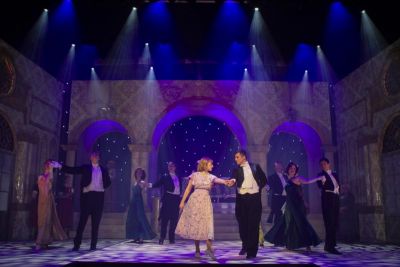 The children worked well together and their harmony singing was a delight. Eryn Saunders was a highlight as Liesl, the oldest, with a lovely singing voice and impressive dancing. The duet "Sixteen Going on Seventeen" was well realised with the Rolf of Michael Syme. Young Michael admirably caught the conflict of the young Nazi in love with Liesl. "Mr. Babirra", Owen Davis, made a rare appearance on stage as Baron Elberfeld.
Babirra excelled themselves with the set. The monastery morphed into the Captain's chalet, with outdoor scenes beyond the columns. The cast moved furniture on and off, which kept the action moving.
Unfortunately the nuns chorus was more strident than ethereal and there were lighting and sound cues missed, which will be sorted out during the run.
It was a nice finish to have a sing-along at the end during the curtain calls. The standing ovation and sold out season says it all.
Graham Ford