Music by Richard Rodgers. Lyrics by Oscar Hammerstein II. Book by Oscar Hammerstein II and Joshua Logan. Opera Australia. Opera Theatre, Sydney Opera House – from August 11, 2012. Followed Princess Theatre Melbourne from September 13 and QPAC from December 27.
The red carpet was in danger of wearing out at the Melbourne opening of South Pacific last night. Patrons were greeted on Spring Street by Polynesian dancers and drummers as they entered the Princess Theatre.
Rumours abound of a cast romance, a factor that will help affect a successful box office. But this production needs no such thing to attract the hordes.
Sometimes one goes to a show and decides it is worth it on the weight of one element alone. But here I find there are so many elements to recommend buying a ticket.
One patron (Robyn Nevin no less) was overheard describing Teddy Tahu Rhodes' rich sonorous voice as being 'like thunder'. Perhaps. But I was thinking earthquakes, and yes, the earth did move for me, darling. What a presence.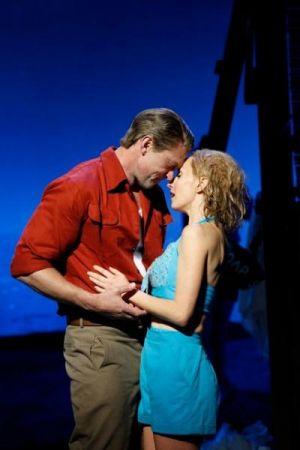 Lisa McCune, greeted with spontaneous applause as she graced the stage, was astonishing as she leapt, pivoted and even cartwheeled about the stage like a spring chicken.
Eddie Perfect was. This guy left absolutely nothing behind, wowing the appreciative crowd, and working tightly with the male chorus, who are quite sensational.
Kate Ceberano was completely believable as the feisty Bloody Mary, and Daniel Koek as the hapless Lieutenant Cable.
But I can't stop there. The Music: wonderful songs that do laps in your head for days after. Comic choreography: some of the most precise I've seen. Terrific set design, set manipulation and costuming. And the rest.
Just get a ticket.
Lucy Graham
David Spicer's Sydney review.
Some have wondered why an Opera Company is branching out into mainstream musical theatre with stars who clearly are not opera singers. Any misgivings were swept away like the tide on a golden beach by the thunderous ovation from the audience at the opening night of South Pacific.
The month-long season in Sydney has almost sold out and artists have already been told to prepare for a return season in 2013.
The biggest question was how opera singers would blend with musical and pop stars. This was achieved successfully by using microphones during the whole performance.
It immediately gave the overture a boost.
Teddy Tahu Rhodes as the French planter Emile De Becque had the voice and looks to make any woman go weak at the knees. His Wagnerian like baritone needed no amplification.
Tahu Rhodes' intense vibrato contrasted with the sweet tones of Lisa McCune as Ensign Nellie Forbush.
Other singers held their own. Kate Cebrano was powerful as Bloody Mary and Eddie Perfect slipped very nicely into the character role of Luther Billis.
The most sensational singing, however, was from Daniel Koek as Lt Joseph Cable. His arias soared.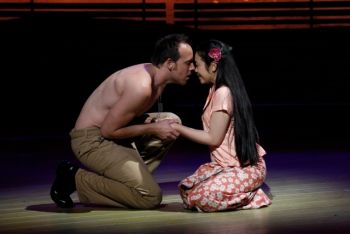 The production from the Lincoln Centre Theatre in New York was beautiful to look at. Filled with crisp blue ocean backdrops and authentic looking World War Two scenery. A plane looked like it was freshly lifted from an aircraft carrier.
A rousing chorus, who were all dancing in time, and a sharp as a tack orchestra further lifted the performance.
Regardless of the high standard of the production the question remains whether South Pacific as a musical has dated? It is a little slow to get started. The racial elements of the story are most definitely past their use by date even though they reflect the attitudes of the 1940's.
However the big themes of love, death and war remain as relevant to our generation. Coupled with glorious music which I hummed as I was going into and out of the Opera House – it was without doubt some enchanted evening.
David Spicer
**
Built on the bedrock of master storyteller James A. Michener's Pacific war tales, lavishly musicalised by Richard Rodgers, with Oscar Hammerstein II's eloquent economic straight-from-the-heart lyrics, South Pacific remains 24 carat Golden Age musical theatre.
The casting of Teddy Tahu Rhodes and Lisa McCune reinforces the vast cultural contrast between the two romantic leads, as written, musically and dramatically; one role written for an operatic bass and the other for a musical comedy soubrette. It remains inspired chemistry.
Opera Australia's restaging of the hit Lincoln Center Broadway revival ensures this classic remains fresh and vital, in a visually attractive, brightly paced, impressively sung and danced production. The comedy portion of the show, led by Eddie Perfect as Luther Billis, hits the mark as credible human reaction, epitomizing the humour with which we so often face of our darkest hours.
For mine, South Pacific is the most enduring of the great musicals created by music theatre immortals Rodgers and Hammerstein.
Indeed, as long as young men and women are sent to risk their lives in wars in remote locations; locales where deeply-embedded prejudices continue to boil to the surface via social media, it will continue to speak to audiences.
Don't miss a wonderful opportunity to savour and engage with this vibrant Broadway classic.
Neil Litchfield
Images (from top): Lisa McCune as Nellie Forbush with the boys of Opera Australia's South Pacific. Teddy Tahu Rhodes as Emile de Becque and Lisa McCune as Nellie Forbush. Daniel Koek as Lieutenant Cable & Celina Yuen as Liat. Lisa McCune as Nellie Forbush with the children. Teddy Tahu Rhodes as Emile de Becque and Lisa McCune as Nellie Forbush. Eddie Perfect as Luther Billis with ensemble performing 'Nothing Like a Dame' Lisa McCune as Nellie Forbush. Ensemble cast. Photographer: Jeff Busby.