By Andrew Bovell. Griffin Theatre Company (NSW). Ddirector: Sam Strong. SBW Stables Theatre. Feb 8 – Mar 19.
Opening with a striking balance of truthful acting and precise theatrical orchestration, I sensed from the outset that Sam Strong's new production of Australian play Speaking in Tongues would be rather special.
There's a passage of concerted ensemble acting, with the cast of four attuned to each other like a splendid instrumental quartet. Consider that this is the amalgam of two parallel, overlapping scenes, as two couples negotiate separate adulterous trysts, and the effect is all the more extraordinary.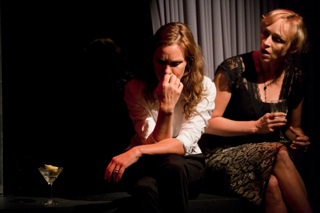 That's just the first 20 minutes of a play which teases slender threads from these four lives through its mysterious tapestry of coincidental encounters.
Griffin's new artistic director Strong has begun his tenure impressively, having chosen to re-stage this great Griffin discovery on the 15th Anniversary of the play, and ten years after the AFI winning film Lantana which it inspired.
Four actors, Caroline Craig, Lucy Bell, Andy Rodoreda and Chris Stollery, play nine characters, intersecting across and within the play's three scenes, ina fine ensemble performance.
Speaking in Tongues is a complex play, traversing the morality of relationships and infidelity, intricately shaped, crafted and interwoven. Yet Strong's telling and direction seems almost effortlessly clear, and utterly at home in the intimacy of the Stables. Dayna Morrisey's setting is clean, simple and eloquent.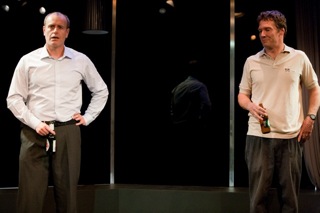 While the film Lantana sprang from this play, the play's abstraction makes it a different, more ambiguous experience. The mystery of the play creeps up on you, has some spine-tingling moments, and frequently delights with its surprise connections and twists.
Fine Australian theatre!
Neil Litchfield
Images: (Top) Caroline Craig, Lucy Bell and Andy Rodoreda, (Middle) Lucy Bell and Caroline Craig, (Lower) Chris Stollery and Andy Rodoreda.
Photographer: Brett Boardman.