Based on the film Una Giomata Particolare by Ettore Scola. Por Piedad Teatro and Playco. Fringe World. Directed by Antonio Vega. Home Economics, The Girls School, Wellington St, Perth. Feb 3-16, 2020
This exquisitely presented co-production from Mexican company Por Piedad Teatro and New York's Playco, uses Mexican actors to tell an Italian story, and is performed in English. Excellent storytelling, with a unique performance style, it will delight audiences throughout the second half of Fringe World.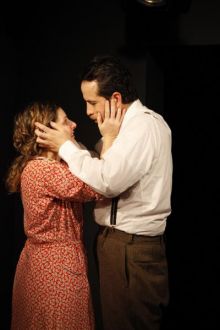 Simply set, two actors playing a myriad of minor characters (and a parrot) tell a story of "a special day", May 3 1938, the day when Hitler met Mussolini. While most people are witnessing the historic meeting of the two world leaders, two of the few people left at home, housewife and mother-of-six Antonietta and social outcast, and former radio announcer Gabrielle, meet, and have a special day of their own.
While much of the charm comes from the connection between these two very talented actors, Ana Graham (Antonietta) and Antonio Vega (Gabrielle), who give gorgeously crafted performances, the way that the performers create the world of this play - often using a piece of chalk - is fascinating throughout. An original staging idea created by Laura Almela and Daniel Gimenez Cacho, the world building and use of space in this production is very special, and really needs to be seen.
The story is one of acceptance and friendship in a world on the brink of war, and while the 1938 setting is particularly poignant, there are messages equally resonant when the film on which this is based was released in 1977, and today.
A Special Day is excellent intimate theatre that will have broad appeal. A must see for lovers of theatre-craft as well as those who enjoy a good story.
Kimberley Shaw
Photographer: Carol Rosseg