Music and Lyrics By William Finn. Book by Rachel Sheinkin. Vic Theatre Company. Directed by Ben Giraud. Southbank Lawler Theatre March 30 - April 10, 2016.
In the midst of the MICF, this little musical packs more laughs and talent into 100 minutes than MOST of the other shows put together.
Beautifully crafted, "Spelling Bee" packs humour, back-story, emotional insight and great musical numbers into its 100 minutes of a school spelling bee and the effects it has on the various participants.
Glenn Ferguson, himself a fine performer, must be delighted by the journey he is taking as a producer with his Vic Theatre Company. His first production – Loving Repeating - was an award winner, and this one promises to follow suit. He has put the production in the more than capable directing hands of Ben Giraud, who has given us a perfectly staged and fast paced show that would lift the spirits of anyone from 8 to 88, as witnessed by the kids in the front row on opening night. The small but perfectly formed orchestra, under the direction of the amazing Trevor Jones, prove to be fine musicians and accompanists throughout, but then, look at the cast they have to work with.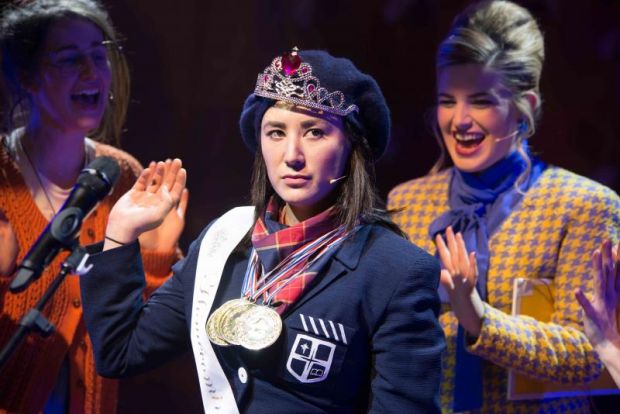 Henry Brett's talent is only restricted by his youth - there are some roles he is simply too young to play. Thankfully Leaf Coneybear isn't one of them. Brett is endearing and adorable and sings up a storm whilst still maintaining his vulnerability. And BOY does he know how to work an audience. This is the third time I have seen him on stage in just over a year and he impresses more with every outing. This role might have been written especially for him, and he relishes every moment. He also nails a second role as a gay father.
Andrew Hondromatidis (Hondo) plays the slob William Barfee to perfection, but don't let appearances fool you. Hondo is a terrific music theatre performer with a great voice and a litheness that belies his weight (I know that feeling). He has seen a niche in the market for his type of character and he more than fills it. Unless Brent Hill has him assassinated, the call to "Get Hondo" will become 'de rigueur' for an increasing amount of productions.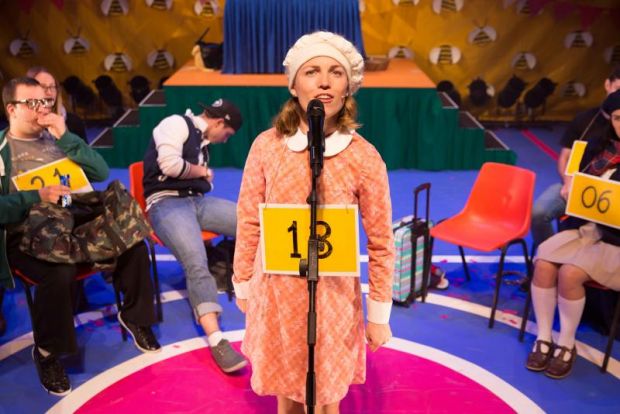 The females are no less impressive. As the girls, Caitlin Mathieson is powerful as Olive, and beautifully understands the vulnerability of the outsider; Sage Douglas as the girl with a lithp and two over-achieving Dads finds the perfect balance of drive and uncertainty as Logainne; Teresa Duddy gives Marcy Park an operatic flavour – and it works.
The adults are clearly defined characters and all pitch their performances at just the right level. They also happen to be fabulous singers, which doesn't hurt in the least. Matt Heyward (Mitch) proves there is life after 30 with his darkly comic but dynamic number, David Spencer is suitably dorkish as the Vice Principal, but what a voice! and Rebecca Moore finds real credibility in what is generally a caricatured role as Miss Peretti. Riley Nottingham (the janitor) finds every laugh in his wordless role and James Coley very successfully channels The Fonz and gets shrieks in his big number "My Erection".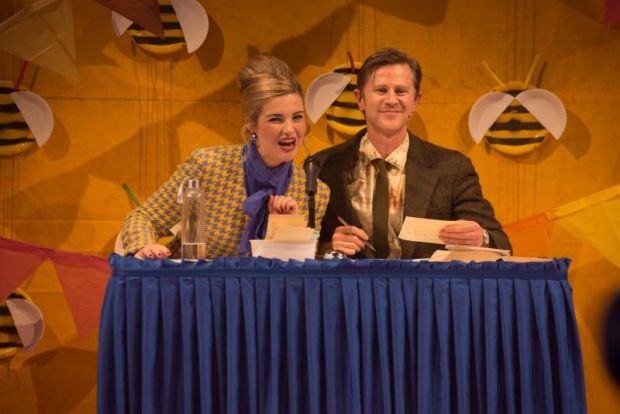 Jason Bovaird's brilliant lighting plot becomes part of the storytelling in the Flashback/Backstory sequences and "Pandemonium" is just that. Marcello Lo Ricco's sound is beautifully balanced and spot on. Bernie Bernard is the perfect choreographer for the piece, stylish and witty, and Zoe Felice's costumes and William Bobbie Stewart's Set Design are just right.
This is the perfect "Feel Good" production that really fires on all levels. But be quick…it's a limited run.
Coral Drouyn
Photographer: James Terry.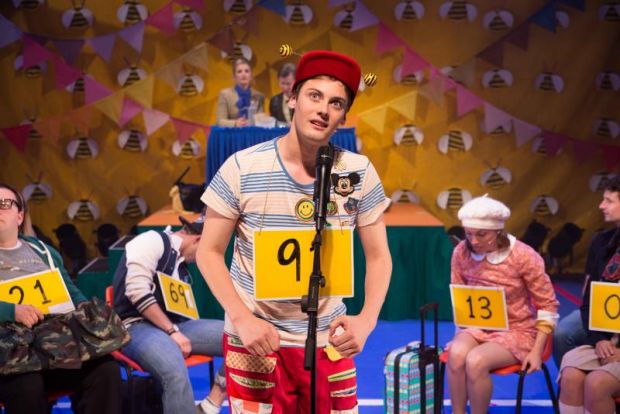 More Reading