Written by Theresa Rebeck. Q44 Theatre Co. and Crazy Chair Productions. Directed by Gabriella Rose-Carter. Chapel off Chapel (Vic). August 27th-Sept 14th, 2014.
A script full of sophisticated witty one-liners, plus a serious subtext, four terrific performances from a highly skilled cast, a director who really knows her stuff, and perhaps the most audience friendly theatre space in Melbourne at Chapel off Chapel (great coffee, a good bar and fabulous leather lounges and designer chairs) make a convincing argument for putting Spike Heels right at the top of your theatre list for the next few weeks. Though this is only Q44's third show, it's proving to be a company which sets a high bar in excellence for itself.
Music Theatre lovers will recognise Rebeck's name as the creator of SMASH, and indeed she's also been a writer/producer on such shows as Law and Order, NYPD Blue and L.A Law. The lady is no slouch as a writer, and this play, written in 1990, withstands the test of time in terms of comic entertainment value, and a feminist viewpoint of the battle of the sexes.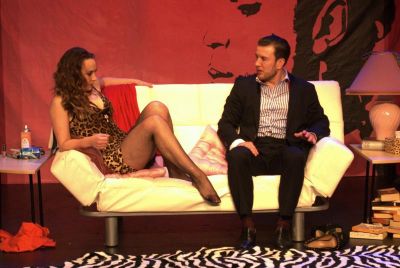 The four-hander explores the relationships between a street-smart, foul-mouthed girl from the Bronx; a stitched up University professor who is trying to teach her to better herself; his upper class snooty girlfriend and a sleaze-bag of a lawyer who sees women as possessions for the taking. Of course those least suited to be together fall for each other (opposites attract, after all) but there's a lot of moral ambiguity and sexism explored along the way. It's not a great play, but it's highly entertaining and beautifully played.
Director Rose-Carter has cast the play perfectly. The multi-talented Nicole Melloy, who only last week completed a run in The Production Company's Showboat, is perfect as Georgie, a girl from the wrong side of the tracks who uses her sexuality for all the wrong reasons, while trying to better herself. She understands Georgie's insecurities and defence mechanisms and makes us care about what's going on internally under the rough exterior. She's also super attractive with the great legs necessary for the "spike heels" of the title, though how she walks in those shoes I can't even begin to comprehend. She's partnered by real-life partner Anthony Scundi as Andrew, the professor who starts out using her in a "Pygmalion" experiment as material for a book, and then falls for his creation. Scundi gives a nicely measured performance, first anally retentive and then losing out to anger/passion. The two have an unsurprising natural chemistry which is a delight to watch.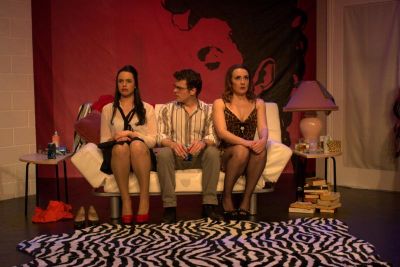 Michael Robins, as criminal lawyer Edward (who has threatened to rape employee Georgie) is very impressive, combining natural charm with macho sleeze in a nicely rounded performance. Completing the cast is the beautiful Lelda Kapsis who never fails to impress (what a marvel she was last year in 5 pounds repertory season). She is only on-stage for one scene, but almost steals the play. Like Nicole Melloy she is a true triple threat and Q44 is lucky to have two such versatile performers as part of its ensemble.
Sister Mara Kapsis has done a terrific job (with Rebecca Fortuna) with the set design on a limited budget; Daniel Harvey's costumes are spot on; and the amazing Jason Bovaird shows once again how important good lighting is, and creates a marvellous tableau for the closing moments of the play.
Q44 is a company worth watching or, even better, supporting. With Kafka's Monkey still to come in its debut season, this is a welcome addition to Melbourne's theatre scene.
Coral Drouyn
Images:Michael Robins and Nicole Melloy; Nicole Melloy and Michael Robins, & Lelda Kapsis, Anthony Scundi and Nicole Melloy.