With Simon Burke, Christie Whelan Browne, Queensland Symphony Orchestra, QPAC Choir, Brisbane Chorale, Brisbane Birralee Voices. Director: Brendan Ross Concert Hall, QPAC, Brisbane. 19-20 December 2014
Spirit of Christmas is an annual institution being a part of the fabric of Brisbane for the past thirty years. Audiences know what to expect and they get what they expect, a concert of hymns, religious works, Christmas songs and sing-a-long. Producer Paul Dellit doesn't play around with the formula but manages to keep it fresh by seeding a new and unfamiliar Christmas song in with the traditional and also by introducing new talent. Billy Bouchier, a recent graduate of the Queensland Conservatorium Musical Theatre Course, was the latter in this year's concert. When he sang "The Holy City" in his thrilling tenor the audience response was palpable and the thunderous applause was like no other in the entire concert. It was a stunning professional debut.
The grandeur of the Concert Hall added to the occasion with the second act opening when the Queensland Symphony Orchestra with the QPAC Choir and Brisbane Chorale sang an expressive "Zadok the Priest" from Handel's Coronation Anthems.Other highlights were Opera Q's Virgilio Marino with a stirring "O Holy Night," soprano Hayley Kitchener and boy soprano Oscar Medek with a hauntingly beautiful "Pie Jesu" from Andrew Lloyd Webber's Requiem, and the company having fun with "A Christmas Song" from the musical Elf.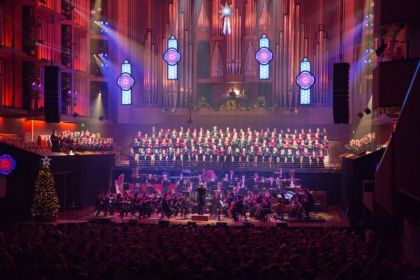 Fun which the audience loved was the unscheduled appearance of Ben Welford and Jamie McGregor as their Lion King characters, Pumba and Timon, who supposedly got lost in the QPAC complex and ended up on the wrong stage. Simon Burke, returning to host after his stint in 2005, coupled well with Christie Whelan Browne and sang a joyous "The Most Wonderful Time of the Year," and were assisted on "Rudolph the Red Nosed Reindeer" by a stage full of tiny tots wearing antlers. Frozen's "Do You Want to Build a Snowman" was a popular choice which Burke and Brown sang with the Birralee Voices who also excelled on "All Is Well."
The Queensland Symphony Orchestra under Simon Kenway played astonishingly well and entered into the spirit of the occasion with gusto. Their "Fanfares and Flourishes" which showcased the brass section and was accompanied by Christopher Wrench on the grand organ was truly dynamic. Perennial favourites "The Christmas Song," "Have Yourself a Merry Little Christmas," and "The Twelve Days of Christmas" were also well-received, but it was the Grand Finale, "Just in Time for Christmas," with the 50-piece orchestra and over 260 voices filling the hall with magnificent sound that was the piece de resistance.
Peter Pinne
Photographer: Stewart Tyrell.