Queensland Symphony Orchestra. Conductor: Simon Kenway. With Simon Gleeson and Alinta Chidzey. Concert Hall, QPAC. 22-23 December 2017.
Each year QPAC's annual Spirit of Christmas concert just seems to get bigger and better and this year was no exception. With over 400 artists participating from the QPAC Choir, Brisbane Chorale, Voices of Birralee, Brisbane Birralee Voices, Brisbane Bells Handbell Orchestra and guest artists Simon Gleeson, Alinta Chidzey, Julia McRae, Shubshri Kandiah and Sofia Formica, accompanied by the Queensland Symphony Orchestra, the voices of the massed choirs were indeed heavenly.
"Joy to the World" has never sounded more appropriate nor more joyous.
Although the mix of carols, sing-a-long and traditional Christmas songs is familiar, producer Paul Dellit introduces enough elements to give the concert a difference each year. This year for the first time we had the Brisbane Bells Handbell Orchestra,a 24 member group of bell-ringers who strikingly opened the second act with "Carol of the Bells".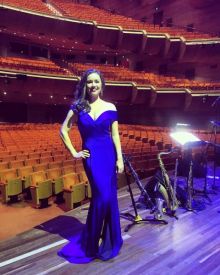 Guest artist Simon Gleeson, who in the last few years has played Les Misérables' Jean Valjean over 800 times around Australia and in London, treated the packed house to a magnificent rendering of the score's iconic "Bring Him Home". And we can forgive him if his reading of "The Holy City" owed more to Jean Valjean than anything else - it was still a thrilling performance. He also acquitted himself well in crooner mode with respectable vocals of "Christmas is Just Around the Corner" and his duet with Alinta Chidzey, "It's Beginning To Look a Lot like Christmas." She did well with a nice warm version of "Have Yourself a Merry Little Christmas."
Although Julia McRae's vocals at times sounded far too metallic on Puccini's "Ave Maria", the sincerity of the song was still effective, made more so by the inclusion of African community leader Sharon Orapeleng's uplifting Christmas message. Shubshri Kandiah's soprano soared on "Mary Did You Know", whilst the orchestra's "Sleigh Ride" was a fun riot of whistles and bells. Kudos to the brass section and their virtuostic accompaniment to Eduarda Van Klinken on the grand organ with Charles-Marie Widor's "Toccata from Organ Symphony No. 5.
The Great Outdoors' Sofie Formica was an amiable host, whilst the Orchestra under Simon Kenway relished the opportunity to frequently let their hair down playing with gusto. Closing with the Christmas version of Bette Midler's "From a Distance" was the delicious frosting on a very rich cake.
Peter Pinne