Queensland Symphony Orchestra. Conductor: Simon Kellaway. Lucy Maunder, Blake Bowden, Spirit of Christmas Choir, Brisbane Biralee Voices, Judit Molnar, Maddison Coleman and Zac Parkes. Host: Sofie Formica. Concert Hall, QPAC, Brisbane. 20-21 December 2019.
QPAC's Spirit of Christmas concerts began in 1984 and now 35 years later they're still going. Christmas wouldn't be Christmas without them, with the Concert Hall all decked out in decorations, the Queensland Symphony Orchestra, massed choirs and guest artists, it's the best festive concert of the season.
This year was no exception. Director Sean Mee has done an incredible job of co-ordinating this disparate group of musicians and singers into a whole that simply throbs with joy. All the familiar carols and Christmas songs get a workout plus the odd new entry to give it spice.
Book of Mormon star Blake Bowden showed off his impressive pipes with a swinging "It's Beginning to Look a Lot Like Christmas", crooned a nice version of "White Christmas" in a "Snow Medley" but filled the hall with a stunning "The Holy City".
Lucy Maunder's female vocal rolewas more integrated into the fabric of the concert this year, working with the Birralee Voices, singing duets with Bowden, and delivering a warm reading of the Judy Garland classic "Have Yourself a Merry Little Christmas" and a sweet "Silver Bells". Soprano Judit Molnar sang Caccini's "Ave Maria" beautifully, whilst Sister Catherine Reuter delivered the Christmas Message which this year included an emotional prayer for the victims of the current bushfires.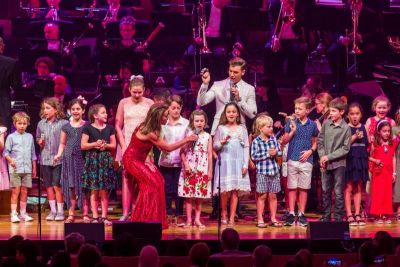 Griffith University Musical Theatre graduates Maddison Coleman and Zac Parkes impressed with solos, she with "River", he with "All I Want For Christmas Is You", whilst the kids in the audience filed onto the stage and participated in a rousing "Jingle Bells", shaking hand bells.
The orchestra under Simon Kenway, and augmented at times with organist Eduarda Van Klinken, frequently let their hair down with "Sleigh Ride" and the finale, "Put a Little Love in Your Heart", a popular choice. Sofie Formica was an amiable and warm host. But it was the two guests, Maunder and Bowden and the massed choirs hand-jiving who brought the house down with "Six White Boomers".
It was a great concert and as comforting as a glass of mulled wine.
Peter Pinne