By Duncan Sheik and Steven Sater, based on the play by Franz Wedekind. Blacktown Theatre Company. Blacktown High Schools Auditorium. July 6 – 14, 2012.
Rough hewn rustic furnishings in the makeshift foyer, subdued lighting throughout the auditorium, young people dressed in old-fashioned school uniforms gathering in what seem to be period classrooms to either side of the stage, as one boy plays an upright piano; the ambience ensures that the audience enters the world of Spring Awakening from the outset. Modern posters on the proscenium, juxtaposed with period settings appropriate to Franz Wedekind's original 1892 drama on which the musical is based, intimate the timelessness of the musical's issues.
This 2007 Tony Award winning rock musical, adapted from a century old play, tackles issues as contemporary as they are timeless – adolescent sexual awakening and orientation, teen angst, youth suicide and teenage preganancy.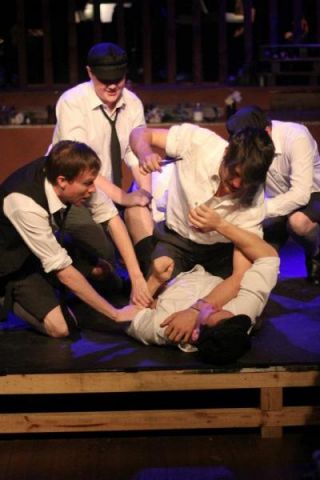 Blacktown Theatre Company's uncomplicated, intimate production is a seamless ensemble effort, with a strong sense of theme and narrative. Director Elle Zattera has created a fluid minimalist staging, where a few necessary props are moved on and off the stage by the cast in often almost invisible, precisely choreographed transitions.
While thirteen young performers make varied individual contributions, they unite impressively in close-quarters, often in-your-face ensemble work.
Stepping forward from this focused, well-balanced young ensemble in key roles, Nicole Lotters' Wendla has a delightful, naïve sensuality; Julian Luke's intense Mechior is a convincing young outsider; John Apotsis develops the role of Moritz credibly from nervy and hyper to angry and frustrated, while an engaging mystique surrounds Laura Bradford's Ilse.
The adult authority figures are generally well-handled by five performers, instead of the usual two, though in one scene Wendla's mother might better express credible anger using more variety and less shouting.
Fresh from the joyous 50s dance of the NSW Amateur Premiere of Hairspray, choreographer Craig Nhobbs has created gritty, dramatic movement for this production.
Importantly for a rock musical the sound balance works well, with Stephen Zrnic's small band, an effective mix of rock and string instruments, positioned backstage.
Engaged with the truth of their characters, these young community theatre performers make this Spring Awakening well worth a look.
Neil Litchfield