By Richard Harris. Directed by Geoffrey Leeder. Koorliny Arts Centre, Kwinana, WA. Nov 10-25, 2017
This fabulous, joyful production is bursting with energy at the Koorliny Arts Centre. A wonderful collection of characters come to life, in a well-directed show with outstanding production values.
This well-known play centres around an adult tap dancing class, led by teacher Mavis (Hannah Harn - a wonderful choice for the role), who nurtures their talents.
Koorliny's incarnation of this show works particularly well because the characters are so expertly created, and the audience become invested in each and every one.
Lone male Geoffrey is gloriously awkward in the hands (and feet) of David Gardette. Rachel Monamy is excellent as Maxine who definitely knows what she is doing, while Jenny Lawrence is lovely as the gentle Dorothy.
Anita Telkamp brings spunk to the beautiful, boganish Sylvia, Casey Edwards wins audience sympathy as uncertain and sad Andy, and Stacey Hollings is sweet as keen and caring Lynne. Lucy Eyre is very funny as angry, bitter and unlikeable Mrs Fraser.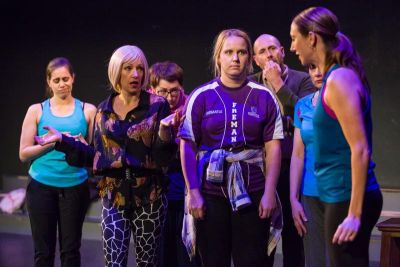 It was great to see a couple of new faces. The very experienced Claire Matthews makes her Australian debut as the very particular Vera - a very welcome transplant. The delightful Nontuthuzelo Mqwati makes an impressive theatrical debut as Rose.
Choreographer Allen Blachford guides the cast from faltering first tap steps through to (spoiler alert) a successful performance, showing both clever collisions and some solid tapping.
Director Geoffrey Leeder has designed a simple, open and functional set, well lit by Alex Coutts-Smith. Most of the music is (reluctantly) provided in character by Lucy Eyre as the class pianist.
My only real disappointment with Stepping Out is that on opening weekend this show was not getting the audiences it deserves. This is a production that will be loved by people who enjoy a good play, as well as those who usually prefer musicals. One of my favourite shows of 2017, this is really worth seeing.
Kimberley Shaw