By Colin Thiele, adapted by Tom Holloway. Queensland Theatre. The Playhouse at Queensland Performing Arts Centre (QPAC) from 31 July to 17 August 2019.
Queensland Theatre's Artistic Director, Sam Strong, is at the helm of this hugely successful stage version of the Aussie classic Storm Boy. He has brought together a highly skilled team where everyone has played their part in forging an exhilarating visual theatre experience. The magical set design by Anna Cordingley – sand dunes and beach shacks – brings to life the Coorong setting, bolstered by stunning projections and drone images from Justin Harrison, with sparkling lighting by Matt Scott. Aussie rock classics from Cold Chisel and the Church set the scene before sound designer Darrin Verhagen evokes the beaches, ocean and bird life, and finally the storm that is central to the story.
This is an acclaimed cast, with John Batchelor and Tony Briggs making their characters – Hideaway Tom and Fingerbone Bill – warm and likeable. Their main job though is to support their lead player, Conor Lowe, who does most of the play's hauling with his striking performance as Storm Boy. Also doing their share of the heavy lifting (literally!) are puppeteers Emily Burton, Ellen Bailey and Drew Wilson who portray the pivotal pelicans, operating puppets by David Morton's Dead Puppet Society – and they do steal the show. Although laser cut and as technical as a meccano set, the pelicans soar as majestically as real birds. They are an absolute hit and receive spontaneous applause from a captivated audience. Adding to the sense of wonder is some starry stagecraft. Huge sand dunes magically disappear into thin air due to seamless scene-shifting by the backstage crew of Whitney McNamara and Ella Gordon.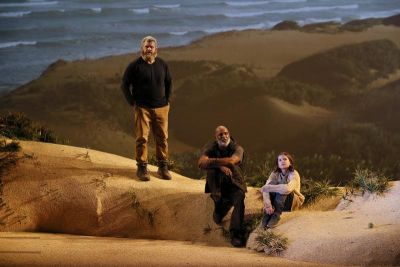 I just wish that Tom Holloway's adaptation wasn't written so much with the very young demographic in mind – all audiences could benefit from a wider perspective. Holloway's version leaves us with a 'lite' version, one that denies Fingerbone Bill his deep connection to the natural world (including leaving out the crucial information that his own indigenous totem is the pelican). It also diminishes Tom's journey through grief with a script of mainly lame 'Dad' jokes. Holloway has whittled away some of the most important themes – a wasted opportunity which underestimates today's young people, who certainly don't want dumbing down. This was in evidence at a lively Q&A with the creative team after the show. And so, despite the drawbacks, Sam Strong has captured a deep delight in landscape and birdlife, and the joy of the teamwork comes through in the production, which was thoroughly appreciated by a packed house – young and old.
Beth Keehn
Photographer: Jeff Busby