By Tennessee Williams. Directed by Hannah Kassulke. Brisbane Arts Theatre. January 31 – February 29, 2020.
First produced on Broadway in 1947, this play – Williams' most famous – dramatises the life of Blanche Dubois, a Southern belle, who leaves her 'aristocratic' background in poverty to seek refuge with her sister Stella and brother-in-law Stanley in a dilapidated apartment in the French quarter of New Orleans. Thus develops the conflict between sisters, with very differing views on life, and husband Stanley Kowalski, a basic crude "common" man. Blanche has suffered already in life and now does so even more as we are forced to watch both her physical and mental degeneration. After so many years, this is still a challenging play to present and for the audience watch.
Director Hannah Kassulke has cast well in the sense that all members looked ideal but some of her interpretation was open to question. The set, by the way, was very effective and impressive indeed. It set the right tone for the production while being extremely functional. However, the needed pace was sometimes lacking, making the play seem unnecessarily long and slow.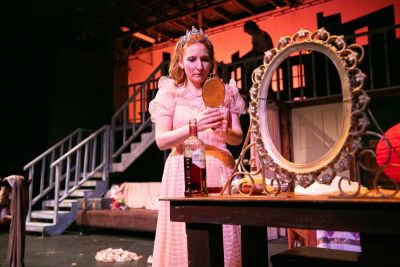 Victoria Darbro's Blanche Dubois, was at times hard to hear but was clear and very effective at other times, particularly in scenes with Mitch. Reagan Warner was the loud mouthed, physical Stanley Kowalski who dominated the women. Physically, he was Stanley but his performance needed more subtlety or there was no reason for Stella to love him. Claire Argente, Stella, was also hard to hear at times. The standout performance was by Jon Darbro as Harold Mitchell, one of Stanley's card-playing mates. His brief flirtation with Blanche was great.
Blanche seemed too mentally unstable at the start of the play to show her further disintegration effectively. However, with a little more pace and some changes to interpretation, this talented cast will the "Desire" to life.
William Davies