The Pink Flamingo Spiegelclub. Gold Coast. Opened Aug 22nd, 2019 for a twelve month season
It isn't possible to review this show without saying something about the spectacular venue that has been created to house it. Though the words "Las Vegas" are being bandied about, the Spiegelclub is much more like the Lido de Paris in its heyday. It's Pink (obviously) and pays homage to the wonderful Art Deco period of the 1920s and 30s. The service is spectacular, nothing is too much trouble for the delightful waitresses (ours was Bronte, who was just brilliant), who are modestly dressed, and the food platters are divine and part of your ticket price in most cases. If you buy a premium ticket, it comes with a glass of Champagne as well - we're not talking domestic here - it's a glass of MUMM's. In short, the whole setting is classy and chic, and executed with excellence.
Now the Gold Coast is not noted for classy chic nightclubs. I think I opened the first one, Coco's, back in the late Seventies, and managed to go broke in under a year. But if ever a club deserved to succeed it's this one, because it does absolutely everything right, including the delightful Jerome who greets patrons at the door with oodles of French charm. The catchy byline is "Pink is not a colour, it's an attitude." That's certainly always worked for me.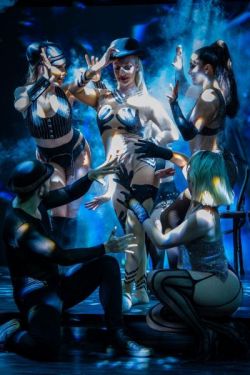 And so, to the show, called Suavé…with an accent on the e. There isn't any such word but that just makes the name easier to remember. It's unique. This is entertainment of the highest order, and if you've seen shows like Cirque de Soleil or Blanc de Blanc, you will certainly want to add Suavé to your bucket list. Costuming is superb throughout, and the dancers are great. The choreography, by Anthony Ikin, is slick, contemporary, exciting and with just a touch of Fosse (and who doesn't love that?). It doesn't hurt that principal dancer Jane McPhie has returned from the Moulin Rouge in Paris, and it shows in her class, especially the stunning Fan Dance. Sensational acrobat and aerialist Stephen Williams also dances, but it's his core strength and charisma that is most impressive. Jordan McKnight is quite simply the greatest contortionist I have ever seen, and Zion Martyn and Poppy Fairbairn as Hugh and Bunny are hilarious, but also gifted performers. Claudia Valutti, clearly ballet trained, is brilliant in her aerial performances. There's also a terrific, and beautiful, female singer whose name I didn't get, and a mind-boggling pole act by a Russian Duo called Olga and Marat who have just finished a long residency in Las Vegas. There were several tricks where I actually forgot to breathe. Fortunately they were not too long.
The audience is very close to the stage, which boasts a 20 metre LED screen that acts as a backdrop and provides incredible variety in sets, which just adds to the ambiance.
It would be difficult not to be swept away by the energy and talent of Suavé. When the show is over the club turns into a Top End Disco with DJs pumping up the volume for all the beautiful people. It's an expensive night out but, as the saying goes, 'You get what you pay for". In this case you're paying for something that is close to perfection on all levels.
Coral Drouyn
Images: Sb4Photos