By Louis Nowra. Essendon Theatre Company, 9 Bradshaw Street Essendon. September 5 –14, 2019
Essendon Theatre Company have every reason to be very proud of this lovely smooth, seamless, clear, and even handed production of Louis Nowra's coming of age play, Summer of the Aliens. This production is a must if you haven't seen this significant slice of Australian Theatre History.
Nowra has written some very probing and moving works such as Inside the Island, The Golden Age and Cosi. As a playwright he was particularly prolific in the 1980's and 90's.
Director David Runnals has hand picked an excellent cast for this probing work in which scratching the surface of the local community reveals that everyone is a little strange. On a set that conveys the shifting sands of time, all actors excel in their roles but most particularly Ben Smalley as the young Lewis. Not for a minute does he falter or slip out of character throughout the three acts. Smalley has a lovely sincere and slightly ironic touch and is a delight to watch. Likewise Marniesa Martinez, who plays his loyal but troubled female friend, Dulcie, is beautifully fleshed out. These entrancing youngsters are surrounded by a wealth of experience in the more mature actors, all of whom are perfectly matched to their roles.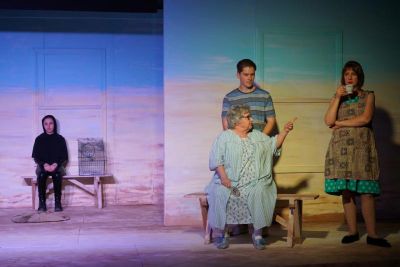 The whole evening moves at a lively, clear, swift, smooth pace. It is evident that rehearsal time has been used well and productively.
There is some added quirkiness in that Director Runnalls has incorporated a wafting character of an Alien (Bella Garcia) who is kind of like an assistant stage manager - efficiently handing actors' props. This is done so unobtrusively as to not disturb or effect the action.
Donal Taylor embodies the mature much wiser Lewis beautifully and maintains a lovely comfortable presence at the side of the action. Sonja Prater as Lewis's mother expresses all the angst and determination of a wonderfully stoic and successful single mother. And Darren Gregor as the boy's footloose and fairly delusional dad does an excellent job. His daughter and Lewis's sister is played with refreshing aplomb by Gregor's actual daughter Jessica Gregor.
Sandy Green, a very skilled mature actor, conveys a lovely caring Grandma. And for some marvelous comic relief Gilbert Gauci embodies Mr. Pisano, the wacky, manic and ineffectual postman. Likewise Lauren Preston as the Dutch girl has the audience laughing out loud. Richard Pit shows great versatility in his contrasting portrayal of an elegant Uncle Richard and the very unpleasant misogynist Stan.
Lochie Curran embodies the bloke next-door type as Brian. Everyone has their troubles and Lewis's search for Aliens seems to be his way of coping with the weight of his family difficulties, stresses and strains of growing up.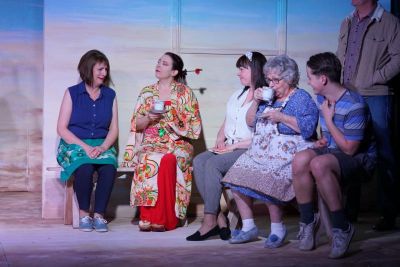 I am very glad I got to catch this production and can't recommend it highly enough.
Very classy amateur theatre.
Suzanne Sandow
Credits
Directed by David Runnalls
Produced by Kaye Mills
Stage Manager – Rosalin Shafik-Eid
Artistic Design Margaret Mulheim
Costume – Sue Cerminara
Lighting - David Runnalls and Paul Haywood
Sound Design – David Runnalls and Paul Haywood
Cast
Narrator, the older Lewis - Donal Taylor
Lewis 14 years - Ben Smalley
Dulcie 14 years - Marniesa Mariinez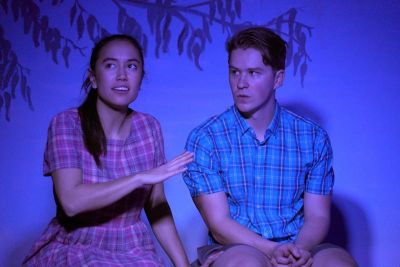 Norma, Lewis's Mother - Sonja Prater
Eric, Lewis's father -mDarren Gregor
Bev, Lewis's sister - Jessica Gregor
Grandma - Sandy Green
Uncle Richard - Andrew Pitt
Stan, Dulcies step father - Andrew Pitt
Mrs. Irvin, Dulcie's mother - Angela Trakula
Beatrice, a Dutch girl - Lauren Preston
Mr Pisano, the postman - Gilbert Gauci
Brian, Lewis's friend - Lochie Curran
Japanese Woman - Janet Emmanuele
Alien - Bella Garcia
Radio Announcer - Adam Gehling
The Harrisons - Sue Cerminara & David Runnals