By Ray Lawler. Heidelberg Theatre Company (Vic). Director: Paul King. Set Design: Paul King. Lighting Design: Deryk Hartwick. 13 – 29 September, 2012.
Celebrating its 60th Anniversary season, the Heidelberg Theatre Company has included one of Australia's most iconic plays, having first performed 'The Doll' in 1992.
Themes of respectability and tradition are explored during the seventeenth summer that Olive (Jodie Symes) has welcomed itinerant cane cutters Roo (Gavin Williams) and Barney (Dan Haberfield) for the off-season. This year Pearl (Tina Bono) replaces Nance, who has married, for many weeks of revelry. But the summer doesn't unfold as anticipated.
Costumes and props have been thoughtfully assembled with hats, gloves, 1950's hairstyles and cigarette rolling. The strength of the attractive and detailed set design was its depth which was utilised well, and included all the kewpie dolls. Sensitive lighting design included morning light, afternoon shadows, and reflected fireworks.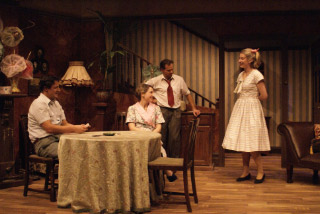 Physical violence was convincing, although I baulked at the idea of Roo pushing Olive around, and delivery was occasionally too pacey for the required emphasis. Some individual performances were initially 'acted', but had settled in by Act 2, and will become second-nature as the season progresses.
Breaks between scenes felt laboured, given the minor set alterations.
Tonight's audience, dominated by mature-aged patrons, particularly relished the performance of Joan Moriarty as the ever cynical but ultimately wise, Emma.
Ultimately this is a warmly directed production of a classic play that will appeal to those with an eye for subtle irony.
Lucy Graham.
Images: top - from left: Jodie Symes as Olive, Gavin Williams as Roo, Joan Moriarty as Emma, Tina Bono as Pearl and Dan Haberfield as Barney & lower - from left: Gavin Williams as Roo, Jodie Symesas Olive, Dan Haberfield as Barney and Anna Rodway as Bubba. Photographer: Patricia Tyler.