By Ray Lawler. Therry Dramatic Society (SA). Directed by Jude Hines. The Arts Theatre, Adelaide. August 21-30, 2014.
Ray Lawler's Summer Of The Seventeenth Doll is one of those established classics of Australian theatre that has become so iconic, each successive revival runs the risk of coming across as a stuffy museum piece – so much are the plot and characters products of the time in which it was written, and its once confrontingly original dramatic idioms are now very familiar to modern audiences. But the Therry Dramatic Society's production is not a fussily "worthy" prestige-piece, rather it is a bold, energetic and daringly ferocious assault on the senses that injects fresh passion into the material and offers an intelligent perspective on days gone by. Certain scenes unfold with a sharp, bitingly humourous sense of irony that can only happen when a modern company offers their reflections on an older story. Even those theatregoers who think they already know this material inside-out are likely to see it in a new light after experiencing this deeply layered and thought provoking new production.
Much of Therry's success is due to the strong cast, who all inject surprising, unexpected nuances into characters that could easily have been portrayed as one-dimensional 50s stereotypes. Rodney Hutton has blokey affability to spare as aging sugar cane cutter, Roo, but also invests the character with a perceptive intelligence and tragic self-awareness that makes his eventual fate all the more poignant. Glen Christie, as his flamboyantly arrogant, frequently drunken mate, Barney, never lets the audience lose sight of the vulnerability and insecurity that lurks beneath his façade of puerile macho posturing.
Allison Scharber is a fascinating enigma as Roo's sweetheart, Olive. She plays the part with a sometimes chilling note of childlike innocence, making the audience guess if this grown woman's adolescent behaviour is simply mid-life crisis denialism or symptomatic of a mentally ill mind. She's well matched by Penni Hamilton-Smith, by turns creepy and hilarious as Olive's overbearing mother. Eleanor Kay makes for a winning contrast to these two overgrown "womanchildren", playing 22 year old next door neighbour, Bubba, with a charmingly precocious pragmatism.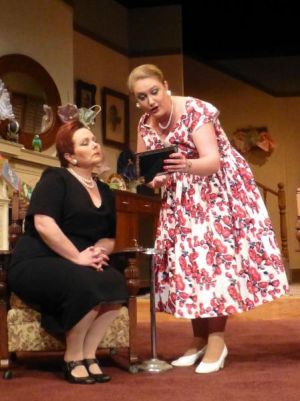 The chemistry between these assembled players is solid, one has no trouble believing that they've known each other intimately for over a decade. That said, Maxine Grubel and Jonathan Johnston also shine as Pearl and Johnnie, the recent acquaintances who shake up this cosy social group. Serving as the voices of reason and sanity, the moments where they deconstruct the pretentions of the other characters could easily have come across as pompously condescending, but instead are delivered in a more empathic style.
These surprisingly complex and multi-layered interpretations of the characters are enhanced enormously by director, Jude Hines' inventive blocking . Scenes that could've been played in a dryly static, talky style are enlivened by movement which feels both naturalistic and visually exciting. Nick Spottiswoode's finely detailed set and Ian Rigney's colourful costumes are similarly eye catching, whilst still feeling appropriate to the time period. As an added bonus, excerpts from a 1948 documentary called "The Cane Cutters" are projected onto the curtain during scene transitions, offering some fascinating insights into a way of life now vanished.
Benjamin Orchard
Images: Rodney Hutton (Roo) and Glen Christie (Barney) & Maxine Grubel (Pearl) and Allison Scharber (Olive) in Summer of the 17th Doll.