Music and Lyrics by Stephen Sondheim. Book by James Lapine. Little Triangle / Sydney Fringe. The Depot Theatre, Marrickville. September 6 – 16, 2017.
The Depot Theatre's intimate space works a treat in so many ways for Sunday in the Park with George, notably in the show's sometimes problematic second act, where adept inclusive direction sweeps the audience up into the gallery opening of the middle scene.
Alexander Andrews' production feels less than a hair's breadth from being immersive.
So connected are we in act 1, that we might well be the water lapping at the shore of the island on which the action is taking place.
Sondheim and Lapine's Pulitzer Prize winning musical, which debuted on Broadway in 1984, is inspired by the 19th century French artist George Seurat's painting A Sunday Afternoon on the Island of La Grande Jatte, and his 'dot painting' style. It's Sondheim at his most art-house.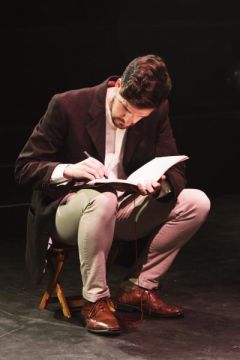 The intimacy of the venue allows simple, stylish accompaniment on piano and cello, which blends with clear microphone-free vocal projection to provide a very special musical experience. Congratulations to musical director and cellist Conrad Hamill for serving the score so marvelously.
A minimalist design makes no scenic attempt to represent the painting central to the story, so stop and have a look at the reproduction in the foyer before entering, especially if you're not one of those Sondheim or art aficionados already familiar with the work. From that point on rely on your imagination, with a quick glance at the reproduction in your program, or on the wall at interval if you need to.
As the two Georges, consumed 19th century artist Seurat and his great-grandson, also a George, and somewhat cynical contemporary artist, Owen Elsley gives a compelling tour-de force performance. He provides much of the glue that binds this production so impressively. Georgina Walker is magnetic and entrancing as 19th Century George's model and lover Dot, then in Act 2, she's credible down to the smallest movement and mannerism of Marie, daughter of the first George and aging grandmother of the contemporary George.
As Seurat's fellow artist/ antagonist, Simon Ward convincingly counter-balances George's idealism with pragmatism, not unlike his contemporary gallery director in Act 2. As Seurat's mother, Tisha Kelllemen's touching duet with George is a real hightlight.
I could go on naming names, but frankly the entire excellent ensemble cast warrants mention, establishing splendid characterisations as the subjects of Seurat's painting, while meeting the vocal challenges of the Sondheim score impressively.
Bravo all!
Yet there are especially delicious little moments. The dogs receive an original and memorable interpretation, but any more explanation would be a spoiler.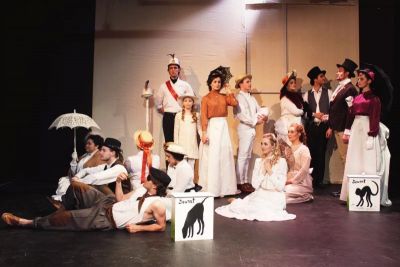 A contemporary gallery opening scene, the middle of the second act's three scenes, so often a clunky disappointment, flies by joyously. The cast create distinctive individual types, perhaps best exemplified by Jordan Warren's deliciously physicalised composer Naomi, desperately trying to disappear. The audience experience feels almost as though we're mingling in the action, sipping cocktails, thanks to astute staging choices.
Act 2 here plays as a delicious tryptich; the wit of the painting's characters trapped in a warm summer afternoon for more than a century, and their redemptive return to guide the troubled contemporary George bookending a scene which finally works for me after several viewings of the show.
Production company Little Triangle's potential for presenting quality small-scale musical theatre on a shoe-string is one of the most exciting things to happen in Sydney's indee Music Theatre scene since the emergence of trailblazers Squabbalogic.
Get your tickets quickly. Such a ridiculously short season of this wonderful production must surely sell out.
Neil Litchfield
Photographer: Becky Matthews