Music & lyrics by Stephen Sondheim, Book by James Lapine. Watch This. Southbank Theatre, The Lawler. 21 -24 August 2019
Fans – or should I say devotees? – of Sondheim's music and lyrics get the rare treat of hearing these live, sung clearly and sensitively by Nick Simpson-Deeks as painter Georges Seurat and Vidya Makan as George's mistress Dot in Act I and as Seurat's (fictional) artist grandson George and George's grandmother Marie in Act II. An orchestra of only four – Jessica Leigh, violin; Victor Brincat, reeds; Grace Gilkerson, cello; and Sean Loughran, percussion; under the direction of Ned Wright-Smith – produce a big sound of this intricate, difficult score that some have described, given the context, as 'pointillist 'in itself.
Coming after the 'failure' of Merrily We Roll Along, this is a personal and often painful work by Sondheim. It's about 'Art' and 'Art versus Life' and the struggle to make Art. In the less successful – or just ill-matched - Act II, grandson George's struggle is more modern, even if his art is stalled and just a little sterile, parasitic on the work of his famous grandfather. (In my view, Sondheim and Lapine are brilliant but not always great storytellers.) But, in the end, Art is endorsed as an all-important thing that we leave behind – Art and Children.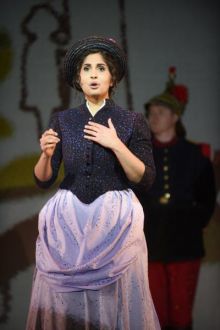 And yet Sondheim and Lapine are ambivalent (intentionally or not) – they are too intelligent not to be. Georges Seurat's devotion to his experiments with colour ('pointillism') – rejected at the time - and his obsessive ideas of perfection cut him off from other human beings. The human figures in his famous painting 'A Sunday Afternoon on the Island of La Grande Jatte' (assuming Seurat really painted from life) were once living human beings with complex, messy lives of desires and resentments and secrets, and yet he rendered them as types in his grand and balanced composition, flattening their individuality. The point, indeed, is emphasised when the live people – played by the rest of the cast - whom he captured and fixed forever in his painting object to being trapped in it.
In this now famous and familiar painting – a huge machine of a painting, now in the Art Institute of Chicago – pointillism and composition win over Life. We may look at it and gasp with admiration and wonder, but not with joy.
During Sondheim's and Lapine's first act – depicting the creation of the painting and its personal cost to artist and mistress – the painting is projected full size on a huge scrim upstage as a background to the action. We see its progress from charcoal sketches to completion. We get perhaps too much opportunity to look (and looking is important) at it. The real Seurat devoted two years of his life to it and we have to infer that by his lights it is what he wanted. But as Art, it is also dead, frozen, static – despite the cute dogs and the monkey - a curiosity, a balanced composition that is a manifestation of a theory. Compare it, say, to Renoir's 'Luncheon of the Boating Party', bursting with joie de vivre and intriguing characters. Sondheim and Lapine admire Seurat's determination as an artist but are saddened by the (inevitable?) cost.
We should also say that the progress of the painting (sketched outlines, trees in and out again) and 'l'ile de Grande Jatte' itself without figures and, when Seurat's grandson takes over the story, the empty, bare and muddy Grande Jatte of 1984 made banal by a polluted river and high rise apartments on the other side, are all rendered with great skill by AV Operator Justin Gardham. We can only be seduced by these projections even if they are not what 'really' happened. After all, Sondheim and Lapine have fictionalised Seurat's life for their own purposes.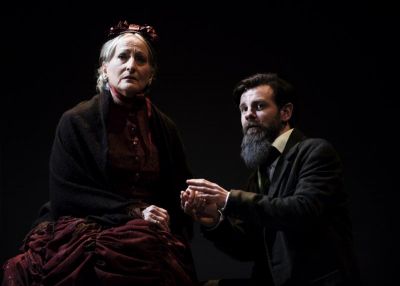 There is strangely, however, a feel with this production almost of a 'concert performance' even if the thrust stage is often busy and crowded with a cast of sixteen. All but the principals play multiple roles, and all are in 19th century clothing (except curiously for footwear) in Act 1 and just right 1984 wardrobe for an art gallery cocktail party crowd in Act II. (The costume designer is Rhiannon Irving.)
This concert performance feeling is increased by the contrast of the seriousness and sincerity of Mr Simpson-Deeks and Ms Makan on the one hand, and the rest of the cast on the other who play their characters in rather broad styles that go after laughs. True, the text can easily invite that interpretation, but here it is rather jarring and off-putting – as if Georges Seurat and Dot and then 1984 George are 'real' people and the rest are cut-outs – that is, superficial and rather ridiculous compared to an 'artist' and his suffering lover.
The music survives, the lyrics survive, and the central performances survive (which makes this show worth seeing), but the presentation, as a whole, is brought down by directorial decisions that seem in the end arbitrary and contradictory.
Michael Brindley
Photographer: Jodie Hutchinson