Courier-Mail Spiegeltent. Brisbane Festival. 7–11 September 2019.
The classy Swing on This team show why they are festival faves – with a high-energy show in South Bank's Spiegeltent, the ideal venue for this very cool show. With audience participation encouraged, it's a perfect weekend kickstarter to get the Brisbane Festival up and running – and swinging in style! And what a start – grooving along to hits from the Sinatra canon – Mack the Knife, New York New York, That's Life, One for my Baby (and one more for the road). There are also other popular swing standards, teamed up with unlikely new associates, including 500 Miles by the Proclaimers – a song that must be the most unlikely to swing – ever! But this talented troupe work their melody magic to achieve the impossible! Swing on This is a quartet of world-class musical theatre leading men: Michael Falzon (We Will Rock You, War of the Worlds), Ben Mingay (Wonderland, Dirty Dancing), Matt Lee (We Will Rock You, Rent, Mary Poppins) and Luke Kennedy (The Voice, Ten Tenors, Jesus Christ Superstar). Backed by a superb swing band (extremely swinging piano, drums, sax, trumpet, trombone, bass) their show combines ensemble pieces with solo songs that allow each performer to showcase their considerable vocal talents – and tap skills, in the case of a brilliant Mr Bojangles performed by the sparky Matt Lee. The group's style mixes Rat Pack shtick with Aussie male cheeky-chappy humour (while Matt Lee completes his solo, Ben Mingay is mingling with the crowd muttering 'I suppose his singing's not too bad!') But you can tell that this group are full of respect for each other's talents and entertainment track records.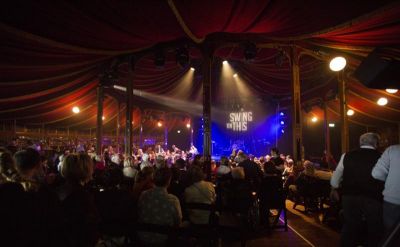 It has been said that the true mettle of a great song is its ability to be played in any style… well, New Sensation by INXS, Chocolate Cake by Crowded House and Pressure Down by John Farnham all prove that adage by thriving with their swing make-overs. The strength of the vocal performances by all four men is astounding and I could not single out any one performer – they are all world-class. However, the musical mettle is not the only true grit on show in this Brisbane Festival gig – the opening night was also a welcome return to the stage for Michael Falzon after an extended break for chemotherapy treatment. Mr Falzon is looking as suave and sounding as smooth as ever – an inspiration to see. Fingers will surely snap, toes will definitely tap, and hearts will absolutely swoon for this swinging-est group of vocal virtuosos.
Beth Keehn
Photographer: Stephanie Do Rozario