By Tanya Ronder. White Box Theatre & Seymour Centre. Reginald Theatre, The Seymour Centre, Sydney. Director: Kim Hardwick. 26 July – 17 August 2019
Craftsman David Best married Elisabeth Maud late in 19th century England and, to celebrate, he made her a fine dining table. And in this play by British writer Tanya Ronder we watch as six generations of the Best family gather round the table — sometimes on it, sometimes under it, sometimes laid out dead upon it — in rural Lichfield, in Tanganyika, back in a hippie commune in England, and finally in London.
Nine actors play 23 characters. Costume changes are minimal — the table is dressed more often than are family members — so it's hardly surprising that there's a certain amount of guesswork around which Best is this, and how old is he/she supposed to be. Actors play 10 years old, or younger.
The longer the scene, the better: there's one long scene at the end of each act. In Act One David Best's missionary granddaughter Sarah, standing on the table, strips off her top in front of the hunter who has saved her from a marauding leopard (see the claw marks embedded in the table!). In Act Two arch traveller Gideon Best confronts the wife he abandoned many years previously. Both scenes benefit from the time spent on them.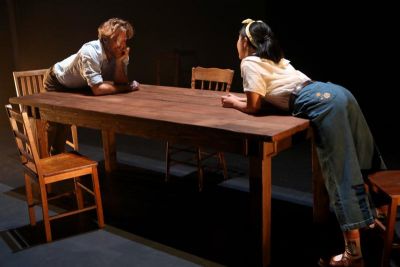 Director Kim Hardwick has assembled a cracking cast. With plenty of singing interspersed with family business, they all have their moments, with standout performances from Danielle King as the wife who must decide whether to take back her errant adventurer husband, and from Julian Garner as both a father and his deeply troubled son.
This production at the Seymour Centre is excellent, though it's hard to be certain who's who. The program supplies a handy family tree but little else beyond long lists of other productions involving the cast. There's nothing at all on the author, Tanya Ronder, or the director, Kim Hardwick. Pity, because together they pull off some marvellous moments of pure theatre.
Frank Hatherley
Photographer: Danielle Lyonne