By Jacques Offenbach. Rockdale Opera Company. Rockdale Town Hall (NSW). August 18 – 26, 2018
The whisper in the foyer amongst regular patrons was that this production was the best one staged by the Rockdale Opera Company in many years. Walking into the Rockdale Town Hall I was immediately impressed with the pride in the company's heritage. Posters adorned the walls promoted the company's 70 years of service to the community, including two previous productions of this sparkling operetta.
The foundation for this production was the excellent 19 piece orchestra under the baton of the Musical Director Luke Spicer. It was marked by crispness and good balance that allowed the emerging and established opera singers to shine.
The Director David Brennan also made good use of the resources available to him. Attractive costumes and a clever set, depicting Venice at night under a full moon, gave the production some panache.
The Tales of Hoffmann has a narrative which still has appeal. The poet Hoffmann is at a pub where he regales stories of his past lovers. The operetta is commonly staged with one soprano and a baritone singing in all of the acts. The creatives made a wise choice to share the parts amongst a number of the singers and also to trim some of the unnecessary recitatives.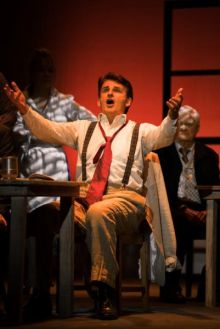 In the title role, Benjamin Oxley was assured and sang charismatically. He looked every bit like a man with some tall stories to tell.
The first lover he talks about is Olympia, who as it turns out was a doll. Offenbach gave the soprano role an aria described by some as the most insane in opera. It hits the high notes and dangles there like a trapeze artist. Camilla Wright elegantly and gracefully dangled on the 'high wire', hitting the top notes with precision.
In the second and third acts, other sopranos Georgia Kokkoris (Giulietta) and Michaella Ye Zhang (Antonia), also grasped their opportunities with style. Amongst the men, Gordon Costello (Coppelius – toymaker) was humorous and Michael Handy (Spalanzani) had a very pleasing tenor voice.
Plaudits must also go to the well-disciplined and stirring chorus.
No Rockdale Opera Company production would be complete without one 'moment'. In one scene there is a duel and the unfortunate loser ends up being stabbed in the chest. At the matinee performance I attended the loser appeared on stage with a blood stain on his shirt in advance of the stage death.
It was the second performance, so hopefully there is enough in the budget for a dry clean before the season ends and better timing for the appearance of the blood stain.
David Spicer