By Alan Bennett. The 1812 Theatre (Vic). Director: Helen Ellis. Aug 11 – Sep 10, 2011.
1812 Theatre's August season is two monologues from Alan Bennett's Talking Heads.
In Bed Among the Lentils, Carol Shelbourn, who portrays Susan, the jaded wife of the local vicar, really captured the role well, hitting the mark with her stage movements across the stage in conjubncion with the lighting. The opening set was a back stage screen montage representing books, with the playwright's name listed as author. The back screen split and a kitchen was wheeled into place centre stage. Essential to the production, this worked well.
In the second story, Her Big Chance,Angela Glennie played Lesley, aspiring actress who could only get roles as an extra. But now she has achieved what she believes is her big break.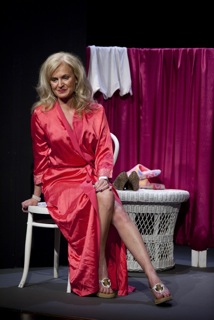 In a wonderful performance, Glennie portrayed the role with aplomb and a good sense of comic timing.
Any extra in the audience (opening night there were at least two) could really identify.
Peter Kemp
Images: Carol Shelbourn in Bed Among The Lentils and Angela Glennie in Her Big Chance.
To keep up with the latest news and reviews at Stage Whispers, click here to like us on Facebook, or follow us on Twitter.