By Stephen Belber. Broken Mirror Productions (Vic). Douglas Montgomery: Director / Designer. Broken Mirror, Upstairs 2c Staley St, Brunswick. 3-13 July, 2013
Tape, an enthralling one-act play by Stephen Belber (The Laramie Project), draws the audience voyeuristically under its spell, and into the lives of its three characters.
Premiering at the Humana Festival of New American Plays in 2000, it was subsequently made into a film in 2001, directed by Richard Linklater starring Ethan Hawke, Uma Thurman and Robert Sean Leonard.
Back-story is everything in Tape. While they've barely made contact for a decade, three old school friends Vince (Leon Kowalski), Jon (Bryce Padovan) and Amy (Imogen Hopper) are reunited when Vince decides to confront Jon about an episode with his ex-girlfriend Amy at the end of high school.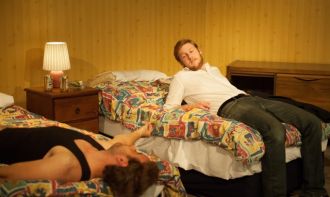 On arrival at Broken Mirror, a foyer film clip akin initiates patrons to the impending drama. Entering the theatre space, the action is already underway as Vince prepares for Jon's arrival.
Shifting power and perspectives drive this excellent script, delving into the murky ethics of privacy, honour, memory, motive, honesty and perception.
For the most part this production is well paced, and dynamically rendered, with line delivery slick and compelling. An exception to this tonight was at the opening where the meeting of two old friends needed relaxing.
This production deserves a larger audience than it managed on opening night. Get along if you can.
Lucy Graham