By Ian Taylor, using songs by Gilbert and Sullivan. Malvern Theatre. Director: Andrew Ferguson. Musical Director: Jan Hall. October 26 – November 10, 2018
Malvern Theatre's Tarantara! Tarantara! was a most enjoyable experience. I caught one of the shows towards the end of the run, and it was a slick, well-oiled production.
The small stage was well used, with three trucks being rolled out swiftly to change the scene and keep the action moving. As one piece of dialogue or song finished, other cast members were in place to move the show forward.
The show follows the antagonistic relationship between Gilbert and Sullivan, and the struggles Richard D'Oyly Carte had to keep it together. Greg Barrison and Sam Marzden were both fiery as the two protagonists. Greg struggled with intonation, but a had pleasant singing voice and excellent diction. An experienced music theatre performer, Sam was a stand-out with his excellent singing and strong acting. They worked well together.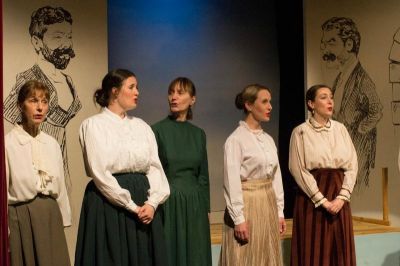 Reg Ellery was the exasperated Carte, struggling to keep the partnership together. He had plenty to sing and his fine baritone was a delight. Ricki Howden and Aron Toman had plenty to sing too as George Grossmith and Joe, with excellent diction.
I remember Catherine Bolzonello and Stephanie James from their eisteddfod days, and was pleased to hear they are still singing beautifully. Naomi Tooby was a strong Jessie Bond. There was some lovely harmony singing from the small ensemble.
Jan Hall did sterling work on the piano, but would have been able to offer more support if it had been in front of the stage.
This was a delightful night at the theatre.
Graham Ford.