By Alana Valentine. Tredwood Productions. King Street Theatre, Newtown. October 10 – November 3, 2012.
Alana Valentine is perhaps the most versatile of Australia's newer playwrights. She is able to make verbatim theatre work dramatically, politically and socially. For her play Ear to the Edge of Time, she is currently in Dublin receiving an international award for the best of 200 plays about science and technology. Her play Head Full of Love has raised after show donations of $45,000 to address kidney disease among Central Desert indigenous Australians.
In Tarantula, she uses the intriguing life of 19th century performer Lola Montez to question why "the answer to older women being portrayed as dried up and sexless has been to show them as ravenous cougars. In a play within a play, Valentine sets up Gina, a mature actor who is playing Lola in a contemporary expose, to question her own perceived sexual repression and, through her young male co-star, the attitude of society to older women.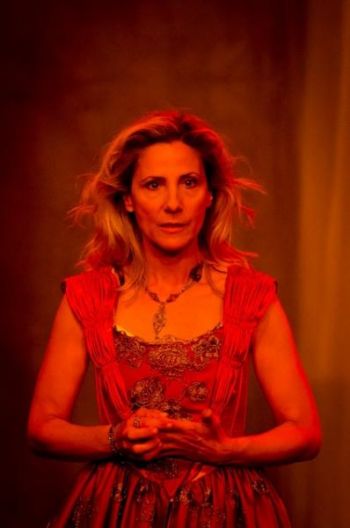 Her research on Montez centres on the performer's brief, scandal-filled tour of Australia in the mid 1850s and the disappearance of her lover, Noel Folland, from the ship on which they were returning to San Francisco. The title alludes to Montez's famous 'Spider Dance', and allows Valentine to use the mysticism behind the tarantula in the play – the legend that its bite causes a mad urge to dance; the fact that hairs from its legs cause itchiness; and, more pertinently, that the female outlives the male by twenty years!
In her inimitable style, Valentine merges past and present in carefully constructed scenes and transitions, which are underlined in this production by a change from red to white light. The intense sexuality of the Montez story is juxtaposed with contemporary humour and short, pithy dialogue. The messages are clear but told with the subtlety of clever writing. The only thing that detracts a little from the writing are the soliloquies and snatches of modern songs. Brief though they are, they seem an unnecessary distraction.
As both Gina and Lola Montez, Zoe Carides is outstanding. She makes the transition from gently ageing siren to mature, but less assured, actor with the consummate ease that one expects of a performer of her experience and versatility. As Lola she is provocative, shameless, flirtatious and aggressive. As Gina she is thoughtful and a little reticent, faced with the almost misogynist attitudes of her young co-star, Terry.
Playing Terry, Folland – and the other four male characters in Lola's story – is New Zealand actor Michael Whalley, whose vitality and comic timing edge up the pace and energy of the play. He is staid and upright as the 19th century characters – and youthfully self centred but completely disarming as the sexually confident Terry. He and Zarides play off each other beautifully.
Nastassja Djalog's direction is tight. She allows the dialogue to be interspersed with silences, gesture and moments of stillness that give the characters more surety and depth. With a relatively simple set, this production works in the intimacy of the King Street Theatre, but could well make the transition to a larger stage.
Carol Wimmer